Eric Mower Advertising Forum Brings CEO Brent Smart
Eric Mower Advertising Forum Brings CEO Brent Smart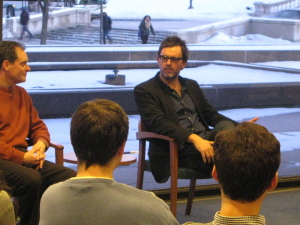 Do we all remember the Cheerios commercials from 2013? They featured a little girl named Gracie, and she asked her mom if Cheerios were really good for your heart. After her mom says yes, you see her walk away with the Cheerios box and the spot cuts to her dad waking up on the couch with Cheerios all over his chest, looking confused. This is a pretty basic explanation, and if you've never seen it I recommend taking the thirty seconds to watch it. The commercial is heartwarming and adorable, but when it first aired it was met with waves of controversy. Controversy that Brent Smart, now CEO of Saatchi & Saatchi NY, never predicted when he was developing the commercial with his client, General Mills.
This past Wednesday, the Eric Mower Advertising Forum hosted a question and answer session followed by a talk from Smart. Smart joined the Saatchi & Saatchi NY office in 2011 as the Worldwide Managing Director of the General Mills business. Smart hails from Australia, and when he was asked to work with General Mills and Cheerios, he was surprised and a little unsure. Breakfast cereals aren't the most exciting accounts, but he was ready to take on the challenge. He also had to overcome the cultural barrier and understand what Cheerios meant to America as a brand.
Casting began for the Cheerios spot and a little girl, Gracie, auditioned and was simply the best. Her casting was followed by the casting of her parents. Gracie, the actress, is biracial which meant casting a true set of parents. The ad features an African-American dad and a white mom, identical to thousands of families in the United States. However, after the ad ran many people were up in arms. Cheerios' ad was shared thousands of times on social media and was the hot topic of dozens of news broadcasts. Although the commercial was met with a lot of negativity, it received an overwhelming amount of positive feedback. Cheerios had earned the equivalent of their annual media budget in earned media (social media, shares, views, etc.) within a week. In simpler terms, the response was outstanding and boosted Cheerios' overall sales.
The Cheerios ad was one piece in Smart's talk titled, 'An Unfair Share of Culture.' He discussed how important it is for advertisers and communicators to realize that they're not competing against each other, they're competing for their viewers' time. In that competition, it's so important for brands to prove to viewers and consumers that their time has value and brands can do that by producing valuable content. By understanding where their consumer is and what they find intriguing, a brand can produce content that is interesting to their audiences.
Entertaining the CEO of a huge global agency like Saatchi & Saatchi is exciting for everyone in the Advertising department at Newhouse. However, the Eric Mower Advertising Forum brings people from all parts of the industry to Newhouse at least once a month. Last semester speakers included Emily Dunsmore and Madison Bohunicky from Starcom Mediavest Group, the brains behind Ellen Degeneres' 2014 Oscars "selfie heard round the world" (that's right, it was all pre-planned), and Susan Credle, the Chief Creative Officer of Leo Burnett Chicago, another powerhouse agency.
The Eric Mower Advertising Forum is a great opportunity for advertising students and faculty to come together and hear from the people leading the ad industry right now. Many of my classes the day after a talk have started off with really interesting discussions about the previous night's lecture and what the professor's take is on it. The lecture series has helped solidify many of the concepts I'm learning in my coursework while also shedding some light on the industry and its inner workings. I've enjoyed all of the speakers thus far, and I'd recommend the lecture series to any communicator.