Stories Beyond Newhouse: Marquise Francis '13 – Social Content Producer At Yahoo
Stories Beyond Newhouse: Marquise Francis '13 – Social Content Producer At Yahoo
Career indecision is a common theme among Newhouse graduate students, as they decided to attend this one-year program to hopefully find exactly what they desire. Some of Newhouse's most diligent alumni have gone on to accomplish great things in the media industry, and they decided to show some love back to the current students, hosting a Newhouse 44 alumni advisory group. On October 26th, 2017, students got the opportunity to get advice from Newhouse alumni, entrepreneurs and intrapreneurs with experience at companies like Cartoon Network, Disney, Google, MTV, Scholastic, TracyLocke, VICE Media, Vimeo, and the list goes on. The panel facilitated the perfect chance for students to elucidate the media industry and figure out exactly what they should be doing to advance their careers.
After getting terrific advice in the panel discussion, I made sure to network with a few Newhouse 44 members that didn't get a chance to speak at the front of the panel. Although it was brief, I managed to squeeze in a quick conversation with Marquise Francis '13 before everyone dispersed from the Miron Room. Francis wore a nametag that said he was a Manager of Social Media for the History Channel, but he has made recent developments in his career that puts him in position to accomplish even greater things.
"The History Channel provided an amazing platform to build something from nothing in HistoryNOW and to grow The History Channel's already bustling social channels," Francis told me in an online interview. "I took a risk in taking on this role and worked hard in exponentially growing all those social channels on the two brands by leaps and bounds. When I felt I had reached my ceiling in this role and there was no longer an opportunity to grow, I knew it was time for a new challenge and that came by way of Yahoo. With the recent merger of Yahoo, AOL and Huffington Post under Oath, the opportunities are endless."
Now a Social Content Producer at Yahoo, Francis anticipates plenty of room to spread his wings and innovate much like he did at the History Channel. Francis credits his intrapreneurial skills in social media to Newhouse's prime educational experience.
"For me, Newhouse truly tied up all the loose ends to enable me to be as successful as possible," continued Francis. "I knew I loved the world of media and hearing people see me talk or crafting the stories being told, but Newhouse is the vehicle that allowed me not only to learn the basics, but really cultivate my interests and allow me to be a part of highly regarded family or media experts."
Francis assured that Newhouse can prepare you to hit the ground running with confidence in any media career, as adaptation is natural for us.
"Newhouse produces the best media professionals and we know things change all the time and we are prepared."
But what about those not chasing the traditional career path right out of graduation? As you Newhouse Insider readers may know, I hope to make a global impact in multimedia entrepreneurship, and seeking advice from members across the media landscape helps immensely. Francis was kind enough to give me his take on what makes a successful innovator.
"The best piece of advice I would give for anyone with an entrepreneurial mind is don't wait for someone to give you an opportunity, create your own," said Francis. "If you have an idea of what you want to do in the future, start doing that right now. The more you can hone in on your craft and make it an everyday part of your life, the more reps you will get in and, in turn, the better professional you will be."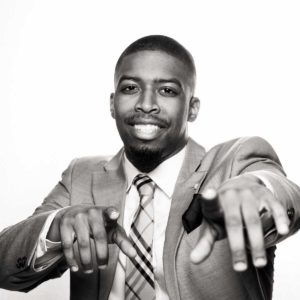 Overall, it was a pleasure getting to know Marquise Francis at the Newhouse 44 event, even if it was for a mere couple of minutes. He was generous enough to stick around and answer as many student questions as possible and gave genuine feedback, being one of the last Newhouse 44 members to leave the room. It's that type of munificence that drives me to become successful in the media industry and one day give back to those learning the ropes of this magnificent industry.