Why Passion Is Everything
Why Passion Is Everything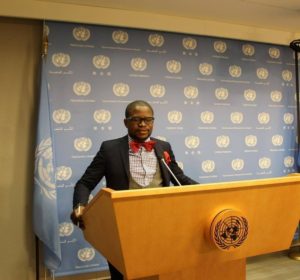 "Aaron, you can only do something exceptionally well if you are passionate about it. If you are passionate about something, there is no Monday, Friday, Saturday or Sunday because that is all you want to do. When you are consumed by the desire for quality output, the '9 to 5 p.m. just to get the salary work mindset' is lost."
These were the words which were told to me by Kerida Mcdonald, senior communications for development specialist at the United Nations Children's Fund, on the first day of my internship in her office. Those words struck the right chord within me because I am passionate about communication for development as it is used to promote children's rights.
True to the words of my supervisor, we could email each other back and forth about work over weekends and also way into the evening after leaving the office. This is why we achieved quite a lot with my boss during my internship. We were able to successfully put together an online course with other team members on communication for development for current practitioners, and those who want to join the field. We are also nearing the completion of putting together a compilation of case studies from different countries (12 countries) on the best practices with regards to the use of theater to bring about social change. Being a firm believer in the change which UNICEF wants to bring through its different projects, I also volunteered to help out on work, which was being done by some of the neighboring offices. This helped me to create a good reputation beyond the section in which I worked to the point that others even began soliciting for my help.
November, 15th, 2017 was officially my last day after my internship was extended to that date from August, when it was originally supposed to end. Having needed to come back to school at the end of August, this year, I did the last part of the internship virtually and traveled to New York from Syracuse from time to time when I got the chance. I had to endure the 6-hour bus rides either way while getting some school work done. The fulfillment I got from the work I have been doing made the journeys worthwhile. Whenever I could manage, I flew to the city. At times, that also came with the challenge of getting work done and submitting it while in airport terminals. Indications are that my internship supervisor may want to extend the internship again if that opportunity becomes possible. She actually continues to consult me to this day. That is what passion does. It helps you to do so well that people want to continue working with you. With passion, you work from the heart and not for the pay or simply to clock the hours. When you work from the heart, you are definitely on to something.
Kerida's parting words to me: "Working with heart is what gets you the seat at the big table, even when others think you are too young to be there, because you will not be doing what your peers are doing. You will be that exceptional bright shining star that cannot simply be ignored. In today's world, you must also be aware that other than just getting things done, speed is important too because it is a very competitive space."
If your desire is to make a difference in the world, you must be different from the world. Passion sets you apart because it gives that cutting edge.