Doodle the News VS. RvD iPrize – DtN Pitches For The First Time
Doodle the News VS. RvD iPrize – DtN Pitches For The First Time
The RvD iPrize, for those who don't know, is an annual entrepreneur pitch competition held at Bird Library. Qualifying candidates must prepare a pitch deck presentation for their venture: 5 minutes to pitch, 5 minutes for questions from a selection of CNY judges.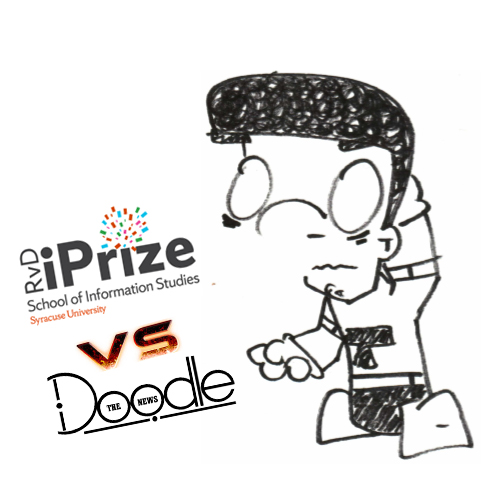 Doodle the News, my own startup, was one of the fortunate 43 qualifying businesses to get the opportunity to compete for up to $12,500 in cash prizes across four different categories: Information Technology, Sustainable & Social Entrepreneurship (SSE), Products, and Services. I chose to enter in the SSE track, and I was excited and confident to take home a large chunk of the non-dilutive funding. Little did I know, there were eight other impressive startups just as competitive, and they had traction to speak for their successes.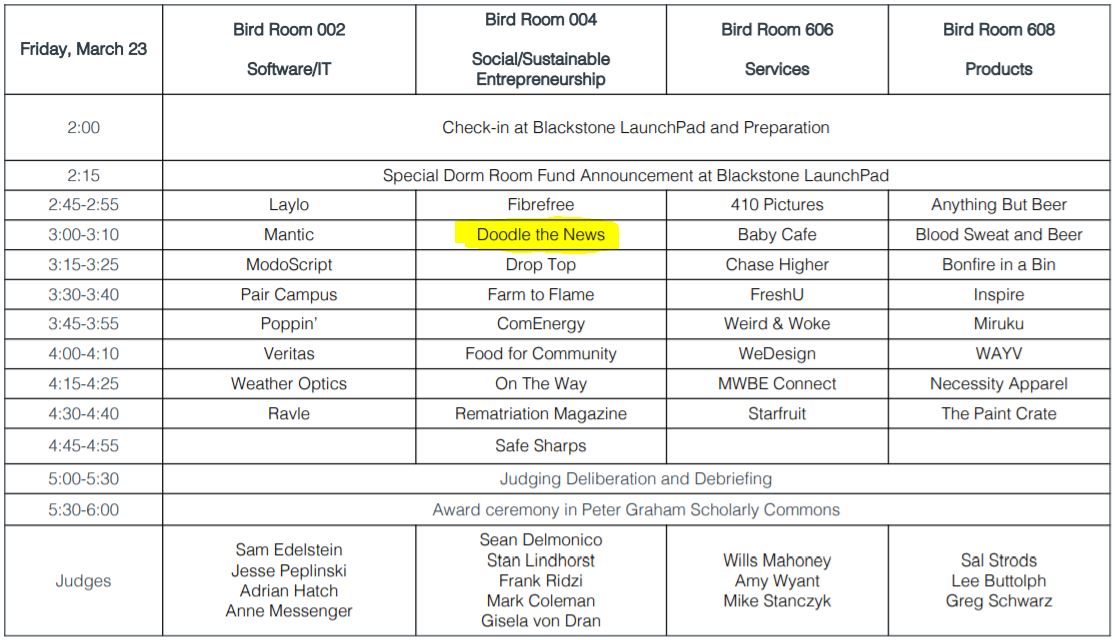 Doodle the News pitched second, and I managed to see the first pitch from Fiberfree. I mainly focused on how the judges reacted to their pitch and the types of questions they asked. Before I knew it, my pitch deck was on screen and I had to instantly let go of my nervous thoughts.
I managed to get to the tail-end of my 5-minute pitch and everything was pretty clear and understandable (at least I thought). The first questions the judges had were about how Doodle the News was going to make money now and in the future. Unfortunately, I don't know exactly how this multimedia startup will make money long-term and I stumbled on the question, mentioning our Doodle For You artistic solutions service.
I was then asked how Doodle the News would be able to target audiences outside the U.S., as the 17 Sustainable Development Goals are known globally. Fortunately with our strategic alliance with the Young Global Leadership Foundation, I gave a decent response saying Doodle the News plans to utilize the YGLF founder's connections in China and South Sudan as starting points, eager to make our efforts known internationally.
Finally, judge Gisela von Dran asked me what Doodle the News would do if it received the prize money. In my opinion, I answered this question poorly, stumbling again and saying we would use it for materials such as scanners. I should have mentioned more big ticket items like becoming an incorporated LLC entity or travel expenses to certain media literacy workshops across the world. But hindsight is 20/20, and who knows if going back in time to give these questions another go would even change my outcome.
After waiting around Bird Library for a few hours watching some other pitches, the competition finally came to a close and judges spent an hour determining who would win the prize money.
To my demise, Doodle the News wasn't able to earn a cash prize. It was nice to see my peers from Rematriation Magazine, WAYV, Ravle, and Fresh U take home some accolades though. Some of those ventures have brilliant, hardworking people behind them, and I can truly say I was proud to work along side them all semester in Professor Sean Branagan's ICC 600 class.
Instead of sticking around Bird Library any longer, I ditched the events after the award ceremony to go home, soak in the day with a few cold Angry Orchards (because beer is trash), and reach out to the SSE judges on LinkedIn. I told each judge I was hoping to learn one thing about how I can improve my startup/pitch to see success in the future. This due diligence is something I recommend all entrepreneurs do whether or not they win a pitch competition, as building a robust network is also key.
Mark Coleman, Senior Director of Corporate Relations at Syracuse University, got back to me the next day. We ended up having coffee Monday morning, and he gave me a copy of his book as a gift. Our conversation was enlightening, and I'm excited to see where it could take Doodle the News in the future.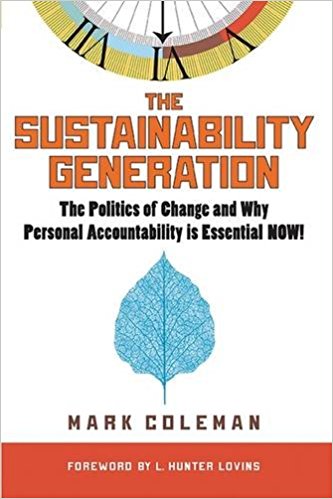 All in all, I'd say it was a huge growth experience for both myself and Doodle the News. The entrepreneurial road riddled with uncertainty is only harder to take when you face a roadblock such as a failed pitch. However, strong-minded entrepreneurs know the 100 failures a team must face before the glimmer of sweet success shines itself on a lucky venture.
For Doodle the News, that day will have to come another time. For now, all I can do is thank you readers who have stayed tooned.