Maxwell In DC: Giving Newhouse Students A Cutting Edge
Maxwell In DC: Giving Newhouse Students A Cutting Edge
For those students who are still deciding what to do with their summer semester, this interview with Ryan Williams, who is the assistant dean for Maxwell's DC Program, is worth a read.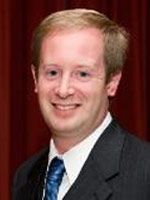 Aaron: Why is it worth it for a Newhouse student to take courses from the Maxwell in DC Program?
Ryan Williams: Being in Washington positions the students for success as it gets them job-ready; they are made to interact with top researchers from leading think tanks, and professionals in their areas of interest regularly. Other than being in class, they visit the different workplaces and hear from experts directly on the ground. We also help them to mingle with alumni who are working in different fields, who can help them to get jobs. It is such interactions that have helped former students from the courses we offer here to get good jobs at CNN, Fox News, National Geographic Channel and the Federal Government among many other places. You cannot easily find a job in DC without networking because it is a very competitive space with well-paying jobs across different sectors.
Aaron: What sort of courses should the Newhouse students expect to take in Washington?
Ryan Williams: For the in-class learning, the courses offered here help students to get grounded in specific policy-based areas such as tax policy, public diplomacy or international development. In order to be a good communicator, one needs to have a strong footing in a specific area of interest. That is what we are here to help them do. It is also important for me to clearly state that you do not have to have a Maxwell background in order to take courses here.
Let me also add that we are privileged for the school to be housed in this building belonging to the Center for Strategic and International Studies. This makes it possible for students to access research data from top researchers the moment it is ready as they help to teach some of the classes. The students are also able to attend events involving experts in a wide array of fields which are hosted right in this building.
Aaron:  Students are usually afraid of taking classes in big cities like Washington and New York because of the high cost of living associated with such places. What can you say about that?
Ryan Williams: Well we do have the same stores they are used to shopping from such as Safeway, Target and CVS. So there are places which are student-friendly in terms of pricing for shopping. In terms of accommodation, we have a great apartment building which students can rent rooms from that is in a great location, which is accessible by public transportation. The apartments are fully furnished and secure. They are a walking distance to a number of eating places and grocery stores. Just like in Syracuse, the students can also choose to find their own accommodation and share with their friends in order to cut down on costs.
Aaron: Is it too late for a student from Newhouse to start preparing for a summer in DC?
Ryan Williams: Not at all. We are here to help them do that. They can reach out to our office here in DC or find out more about our programs from the Maxwell School in Syracuse. I have seen a lot of communication-focused internships being advertised for the summer, which they can take up alongside our classes for credit. Our classes have a flexible schedule which enables them to meet their internship obligations easily.
Aaron Mwewa is a second-year Public Diplomacy graduate student at S.I Newhouse School of Public Communication.