Why Augmented Reality Will Be The New Reality
Why Augmented Reality Will Be The New Reality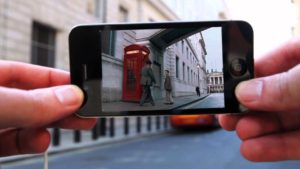 Augmented Reality (AR) has been on everybody's lips lately; it's more than a buzzword for marketers. Here are 5 reasons why AR will soon play a bigger role in all of our lives:
AR technology is getting better by the day
When Apple introduced the latest iPhone, it was equipped with a 3-D scanning camera. This will allow you to render complete buildings to 3-D data. What's more, several developers are working on AR glasses that will be within the financial reach of average consumers. AR is here to stay.
Shopping is going to be adventurous again
The retail business has faced some lean years across the globe. Shopping malls especially are faced with some pressing issues — how to combat the ever-growing influence of e-commerce, for example. AR dressing rooms will transform shopping in a traditional store into a true adventure tailored to the heart's desire of every customer. Toys-R-Us developed a so-called "Play Chaser" AR app that can only be used in their stores. Star Wars characters appear on a promotion screen in the store, offering customers to take a selfie with their favorite character in the position they want.
AR tours will guide the way
When I was a starving undergraduate in Amsterdam, I used to work as a tour guide for tourists who came from all the corners of the world to enjoy the many enjoyments of our fair city. That's quickly going to be a thing from the past.  London kick-started the AR tours with "Treasure Hunt": tourists had to go looking for virtual jewels in order to save the ancestral crown for the English queen. It kind of sounds like Pokemon Go, but this hunt was tailored to visitors to London who wanted to go off the beaten track of the historic city.
Museums will tell the story of history in real life
Ever been to a war museum? I have, and let me tell you, a tank from the second world war is an awe-inspiring machine of destruction, it truly is. That said, it is nothing compared a tank that comes crashing down from the wall, driving right at you. AR will transform every museum into an interactive experience that will captivate even the most insipid teenager.
Of course, not every museum has to be a rollercoaster right per se. Some visitors enjoy the tranquil quietness of a painting with a white wall as a background. The thing about augmented reality is that the engager is king — he can decide if and to what degree he wants his reality to be augmented.
Disabilities disappear for a moment with AR
Enjoying a night out to a Broadway theatre show is easier said than done when you have a hearing impediment. This used to be solved by having a special performance with two screens on either side of the stage with live titles. Jolly good, but people still missed quite a lot because you can only focus on one thing at the time.  West End Theatres in London developed a system that was based on Epson AR. With it, special glasses showed subtitles to theatre goers with a hearing impediment without needing to look away from the performance. An enormous upgrade!