Maintaining a Social Life and Friendships in Grad School
Maintaining a Social Life and Friendships in Grad School
With the semester quickly coming to a close and assignments piling up, it can be hard to remember to maintain a social life. Especially when all you want to do is stay inside in your free time and watch a show on Netflix thanks to all the snow on the ground.
Maintaining a social life is important and being with friends can have benefits. Friendships can bring a sense of connectedness, trust and can have a positive effect on your health according to a 2017 article on EverydayHealth.com by John H. Sklare, PhD. Instead of cooping up by yourself and worrying about finals and assignments, which can be hard, believe me I know; grab your friends and do some activities on the weekend or at night. Here are some of helpful tips:
Go grab a drink!
I understand, being a graduate student can be tough on the wallet, but one or two drinks won't hurt you. Getting out of your apartment, Newhouse or the library is great. By the time the weekend rolls around, I like to just hang around my apartment as I am tired. I've found that going out for a drink or two on a Friday or Saturday night can lead to a fun night.
Many times, some friends and I will head to the Inn Complete or a local bar, such as the Evergreen. Both of these places are laid back and casual, but the best part – there are no undergrads. The prices are reasonable, and they have board games to play. It sounds silly, but my friends and I love revisiting our childhood years with a game of Life or Connect Four. It's the little things to help your mind forget about school.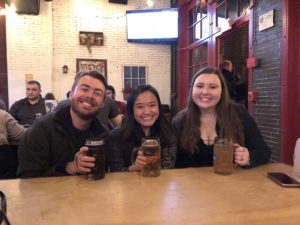 Stay in with friends for a movie/show night!
This sounds so childish, I know, but there really is nothing better than hanging out with friends, watching movies or a show and adding a glass of wine, some face masks and gossip to the mix. Two friends and I have been watching American Horror Story since the premiere in September every Wednesday and it's something we look forward to every week. The best part is that it's in middle of the week, so it's a little midweek pick-me-up.
Find a show or movie to watch with you and your friends once every week. Gossip and chat during commercials or even take breaks to talk. Let out all your stress to your friends and relax.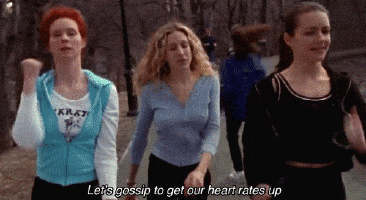 Remember your friends back home, they know you best.
I'm not going to lie, I don't FaceTime or call my friends from back home as much as I would like, but I still text them, send them memes on Instagram and keep in touch. It's comforting to know that your friends back home will be there, but don't forget them, they most likely know everything about you. Plus, it might have been just as hard for you to move away when you left for Syracuse if you're from afar, so keep in touch.
Sometimes I like to text a friend or two about a funny event that happened ages ago and it makes my day better. Keeping in touch with old friends makes your connection stronger. It also is fun to see what they've been up to lately and fill each other in on your daily lives.
As I mentioned before, maintaining a social life can be extremely hard, especially as a graduate student. But it is doable and rewarding.