Americans Who Tell The Truth
Americans Who Tell The Truth
A week before Thanksgiving break, my professor emailed students asking if they wanted to gain experience in production. The email's subject line was titled "Production Opportunity" and after reading that I immediately told myself to keep scrolling since I probably wouldn't have time for it anyway. I admit this is a bad attitude to have, especially with free opportunities, but due to my current graduate school and work schedule, I have missed a host of events and opportunities I wish I could take back.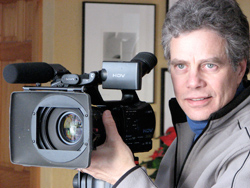 However, two days later I was cleaning out my inbox and came across the same message once again, only this time I actually opened it. In short, there was a SU alum by the name of Richard Kane coming to Syracuse the week following Thanksgiving break. Kane was visiting to complete some filming for a documentary he was working on. Further, I saw that he was looking for students available Wednesday and Thursday afternoon and evening. Lucky for me, I don't have class on Wednesdays and finish by 11 a.m. on Thursdays.
I didn't know what the opportunity consisted of exactly, but since I was available and knew I had the potential to learn something, I replied right away. Over the break, Richard and I were able to connect and discussed my schedule and the exact times that I would be available to assist. I was sent an itinerary with the scheduling of filming and where he would need me to be at the given times. Still unsure of what exactly I would be doing, I was nonetheless excited to be able to do something different and diversify my skillset.
Once I connected with Richard, the work began right away. I did everything from carrying different equipment to helping set up lights and different backgrounds. Some experiences were new to me while others were things that I'd been doing in class or other activities. I shadowed Richard and learned how to better operate the camera, both on and off the tripod. I learned about lighting, angles, and sound all while he filmed his documentary.
But it doesn't stop here. I connected with some extremely talented individuals all fighting for a cause. The documentary was titled: Americans Who Tell The Truth. The film details a man, Robert Shetterly who tells the stories of citizens who have courageously defended issues plaguing society—from racial to environmental.
Robert creatively painted each citizen since 2002 and currently has 237 portraits on display in the Panasci Lounge in the Schine Student Center. It was a pleasure to not only hear Robert discuss the motivation behind the series, but to chat with him personally during which he thanked me for my help, wishing me luck with the rest of my studies. I was able to connect with two educators with whom I exchanged contact information after telling them that I am working to start a non-profit organization geared towards providing funding to the public school system. Stephen Ritz and Bill Ayers are two passionate individuals investing their lives into children because of the children's recognized potential.
All in all, I learned to take the fullest advantage of preseneted opportunities because you never know what will come from it. I changed my attitude about not being able to attend every opportunity or event. It is all part of life, but I don't let it discourage me from still wanting to experience everything that Newhouse and Syracuse have to offer.