From Newhouse to Heinz Field
From Newhouse to Heinz Field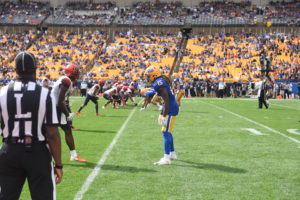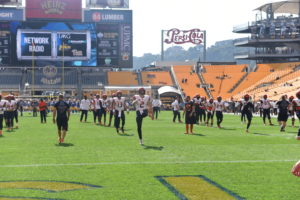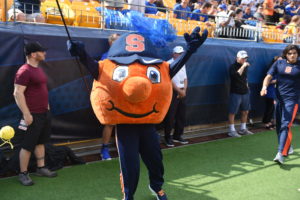 As I was applying to the Broadcast and Digital Journalism program here at Syracuse University, I came across something known as the Sports Communication emphasis. At first, I had no idea what exactly this would entail but I knew that I wanted my future career to revolve around sports so I applied to that too. The next thing I knew, I was accepted and there was a course that was added to my schedule beginning that summer. This course was just one of many that I would take during my next 13 months at Newhouse. In a sense, the emphasis for sports communication came in the form of electives that are selected based on the interest of the student.
One of the requirements of being selected to this specific emphasis was covering an SU football game. Whether that game is home or away, that is up to the student based on their schedule and ability to cover any expenses associated with traveling. For me, I knew I wanted to travel to a game just for the experience itself so the two games that I applied for were the Notre Dame game at Yankee Stadium and the Pittsburgh game at Heinz field. If I could have it my way, I would have loved to go to New York City to not only see the city but to visit their new and improved stadium for the first time as well.
However, I was selected to cover the Pitt game at Heinz Field–and honestly, it was even more exciting because I have never visited an NFL stadium except for Lincoln Financial Field where the Philadelphia Eagles play. Another reason I was excited was because one of my high school football teammates received a scholarship to play for Pitt, so I knew it was a good chance that I would be able to see him in action. Once you are selected to cover a game, you could assume one of two roles: 1. The writer is the student responsible for sitting up on the press box and documenting what goes on during the game in order to writer a gamer after it is all over. 2. The photographer is the student allowed on the sidelines in order to take an array of pictures that tell the story of the game, and for this game that was my job.
This was my first time actually being on the sidelines to this capacity, so I was nervous in the beginning but thrilled to be gaining experience with something new. The game itself was definitely more than I expected but I enjoyed every moment of it. From meeting a fellow photographer who has his own company to being caught in the rain with nothing but a plastic bag to cover the camera in avoiding any damages. I was able to meet and talk with other reporters who were there, covering the game for their respective stations. Then, after nearly an hour weather delay and stunning overtime loss, I was able to attend the press conference after the game. I was also able to tour the facility on my way up to the press box after the game and I was thoroughly impressed with everything. For Pitt, it must be a great feeling to be able to share a stadium with an NFL team but nonetheless I definitely plan to make another return to Heinz Field although the occasion is unknown right now.