Newhouse Insider Podcast: Audio Arts with Bill Werde and Todd Herreman
Newhouse Insider Podcast: Audio Arts with Bill Werde and Todd Herreman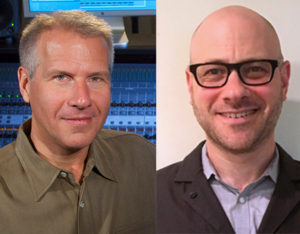 It's a two-fer on the Newhouse Insider Podcast as Eric is joined by co-directors of the Audio Arts program, Bill Werde (Newhouse) and Todd Herreman (College of Visual and Performing Arts). The trio discuss the realities and scope of the music business as well as the unique opportunities afforded to Syracuse students in the Audio Arts program.
Bill Werde served as the editorial director at Billboard, taking it from just a printed publication to a digital consumer brand with millions of followers across social media. Previously Werde was an associate editor for Rolling Stone and has had his writing published in a number of large name media outlets including the New York Times, Wired, and more.
Todd Herreman is a music industry veteran with over two decades of experience working with big name performers including Jeff Beck, Michael Jackson, and doing a year of studio work and touring with Prince. Previously, a professor at Southern Illinois University Carbondale, Herreman has researched industry issues like copyright, licensing, and more.
Click for more information on the Audio Arts Program at Newhouse.