Where To Hold Your Next Study Sesh
Where To Hold Your Next Study Sesh
Even though we're only a few weeks into the spring semester, it seems that the prospect of big projects and exams is just around the corner.  It's not a bad idea to start carving out a few hours a week to keep up on your studying, aside from weekly assignments.  I've often found that I'm a lot more productive when I'm in a comfortable environment.  Here's a few of my favorite study spots in and around Syracuse University.
Recess Coffee
Located just past Westcott Street, Recess is a modern coffee shop with Wi-Fi and delicious beverages.  Depending on when you go, there may not be a lot of seats on the upper floor available, but you can always head downstairs for plenty more tables.  One of the best things about Recess is that almost everyone is there for the same reason – to do homework!  It's a really trendy shop and the soft music in the background will motivate you to be studious without distracting you too much.
Bird Library – Basement Quiet Room
Sometimes you just need a really quiet spot to bear down and get a few solid hours of studying in.  However, shutting yourself away in a windowless cubicle for an entire day may not be for everyone.
Have no fear – because the quiet room on the bottom floor of Bird Library satisfies both criteria.  There's about 30-40 seats with dividers, most with electrical plugs nearby, and everyone follows the quiet rule pretty well.  It's not frowned upon to make a little noise as you unpack your bags, but once you've done that, the room goes back to being relaxing and conducive to a good work environment.
Marshall Square Mall – Upstairs
If you hate being shut off in a space with little talking – don't worry, I haven't forgotten about you!  The upstairs level of Marshall Square Mall – which is located just past Marshall Street, one block below campus – has about 25 tables with plugs near half of them.  Most people are students doing work, but there's no quiet rule, so people come and go and socialize as they please.
One of the things I love about this space is that it's located between several different restaurants (like Chipotle, Subway, Pita Pit, and more!).  I like to pick up a quick lunch, head over to Marshall Square Mall, and do a few hours of work as I eat my lunch in peace.
Whitman Study Rooms
Inside the Whitman School of Management, on the second floor, are a series of study rooms that will blow you away.  The rooms are all equipped with flat-screen televisions that can link to your computer and huge whiteboards.
The combination of technology and ease of use makes these rooms perfect for both individual and group study sessions.  You can link up to display your notes on the big screen and also plan a big project with a moderately sized group.  These rooms are seriously incredible.
Panasci Lounge – Schine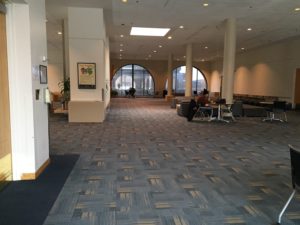 Last but not least is the Panasci Lounge.  For those who've never been, Panasci is on the upper floor of Schine, overlooking the rest of campus through a series of large windows.  It's a very wide open space with both comfortable chairs and tables, and plenty of outlets to go around.
Similar to Marshall Square Mall, food is allowed and so is talking (to some extent).  However, Panasci has a much more comfortable and relaxing feel.  It almost feels like you're studying at home, but with the added benefit of making you more productive because you're surrounded by other students doing work.
This is only a small list of all the great places to study in and around SU.  The best thing I can advise as both undergraduate and now graduate student, is to go explore. There are dozens of interesting places on campus to use to your benefit.
Have fun exploring!