This Winding Path
This Winding Path
And so it ends, another chapter done (or close enough) for our Newhouse Master's students. It's an exciting time to be on campus with flat board caps and long flowing robes hurrying going from one photo opportunity to the next, friends cheers-ing to their success, and the slight scent of nostalgia in the air. Yet, I find myself, as I'm sure many "older" graduate students do, examining just how I got here and pondering where I may go next.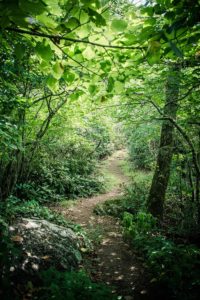 For me, graduate school was never really on the radar. I had no interest in going back to school after five years out of undergrad. What was I going to get out of spending X-thousands more dollars on a couple receipts diplomas that my first one couldn't bring me? How was this time going to be any different? Well, I have no idea. Mostly because I still have another year in my program, but also because nothing in guaranteed. Failure is always an option and success doesn't always come to the most deserving. Cynical? Perhaps, but there's a reason so many of our friends and family struggle when they seem so great.
Often, we build narratives around our lives about how we think/want things to go.  You did well in high school so you could go to the "right" college. Once there, you were in all the proper clubs and intramural sports with a solid 3.5 GPA; maybe you even had a couple sweet internships. Then you get to graduation and… nothing? Maybe something, but not what you hoped for? I mean, there's only millions of graduates each year, why wouldn't things go exactly as planned?
But before I bum you out too hard, I have good news: the path is rarely, if ever, linear. It is in these winding ebbs and flows that we find out who we are, what makes us strong, and develop our passions. Life will always happen, with or without your permission, and it does not do one well to dwell on what "ought" to be. Rather, it is when we take the time to appreciate the journey and ask ourselves, "How can I build from here?" that our paths start to make a little more sense, our maps a bit easier to read. By simply putting one foot in front of the other, we build our own futures, and for those who are willing to keep moving forward, we get where we need to be. That may not be where you initially imagined, but it's where you'll be all the same. Quitting a dead-end job, traveling to expand your perspective, or going back to school, these are all opportunities ripe for the taking, if only we continue to put that one foot in front of the other. It's cliché, but true, that luck is what happens when preparation meets opportunity. Things will go right (or left, because, you know, metaphor) if you keep trying, keep meeting people, and keep putting yourself out there. Maybe it takes a week, maybe it takes years, but you'll be ready when it comes.
This graduation season, celebrate, be joyful, and have faith in your abilities. You wouldn't have come to Newhouse if you weren't capable and your graduation only confirms your potential, just remember to have a smidge of patience and to enjoy the winding path.