Backstage with the Dalai Lama? Heck yeah!
Backstage with the Dalai Lama? Heck yeah!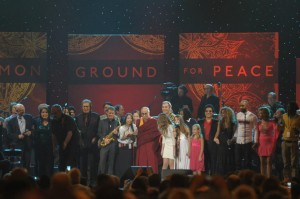 From the moment I applied to SU, people told me of its strong connections and networking opportunities. Even once I was accepted and started attending Newhouse for Boot Camp over the summer, I was constantly reminded of our presence within the industry. But I didn't expect to experience it so dramatically until one Sunday night in October.
See, Syracuse was hosting the Dalai Lama for a two-day peace conference, concluding with a sold-out talk by him at the Carrier Dome followed by a concert with over twenty musical artists, including Natasha Bedingfield and Whoopi Goldberg as emcee. I was one of the unlucky few that didn't get a ticket, so I figured that week would be just regular school nights at home doing classwork.
Sunday night, October 7th. 8:04pm.
ring ring
My phone goes off. "Hello?" I ask hesitantly.
On the other end is Michael Schoonmaker, chair of the Television, Radio, & Film department at Newhouse, and one of my professors.
Hey Logan; it's Schoony. Listen, are you available Monday and Tuesday night? We just finished talking to some of the people working on the Dalai Lama concert and want to have you and some other students represent Newhouse as technical interns for the event.
I had gone from being ticketless with the event barely registering on my radar to now working as an intern for the concert, including a full day of prep beforehand, all from an unexpected call over the weekend! I instantly agreed and was sent some information on where to go the next day.
The following two days were whirlwinds of production opportunities. I started out with the lighting unit on Monday, helping them to focus lights and work with their two separate control consoles, and moved on to assisting the video crew run cables and set up the eight different cameras that'd be use to cover the concert. Tuesday found me shading cameras as they faxed out the equipment, earning an "all access" crew badge for backstage during the show, eating dinner with Andy Grammer, and sitting in the remote satellite truck as the director called the concert all night long:
It was a gem of an internship and one I'm certainly glad I had the opportunity to pursue. Who knew that I'd be backstage watching Nelly Furtado's soundcheck for a concert where the Dalai Lama spoke about world peace? I didn't expect it. But attending Syracuse gave me that chance. It's one of my best experiences so far at Newhouse.