Newhouse Conversation Group: An Opportunity For International Students
Newhouse Conversation Group: An Opportunity For International Students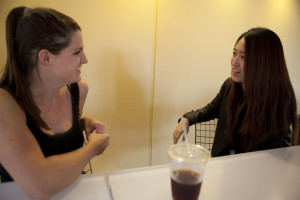 At Syracuse University, our students come from all 50 states and more than 115 foreign countries. As a Chinese graduate student, I am very eager but can hardly find a effective method to jump into the circle in Syracuse. It's not easy to make any local friends. But the Newhouse conversation group gives me a opportunity to do that.
In this conversation group, students will be divided up into groups of two or three . Each group will have one native English speaker as the host who leads conversations. Group members should meet once a week for an hour throughout the fall semester. After my first meeting with Carrie at Café Kubal, I felt that is a fantastic decision to join this group. Carrie is a passionate girl who invited us to her house on the Thanksgiving Day and organized "girls' night" at Faegan's. This group not only helps me know more about the American culture but also helps me start to get into the circle.
Ave is another Chinese girl in our conversation group.
"This is a really effective way to practice my oral English and guide me to the social circle" she said. "I've never have a such great conversation with a local student before."
Lucy Wang , the International Student Liaison, provides appropriate support and practical solutions to concerns that are unique to international graduate students studying in Central New York.  In addition, Wang leads the development of several student-oriented initiatives designed to create a support network for all international students at the school. Wang is also projected to assist with recruitment, admissions and alumni relations overseas.
If you have any questions regarding this Conversation Group, please email Lucy Wang at wwang25@syr.edu.