The Farmers' Market
The Farmers' Market
A perk about not living in a city, or at least a city far away from farmers, is the farmers' market.  I'm from Chicago, and I had never visited a farmers' market until I moved here to central New York.  Syracuse has the Central New York Regional Market.  Its an indoor/outdoor market and its right by Destiny mall and the train station.  Every time I go, its a fun experience.  The hours of operation are right on the page, but early bird gets the worm at this place.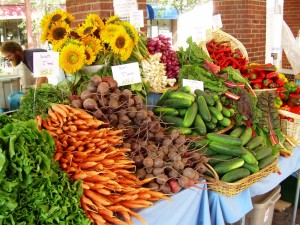 I usually go on Saturday mornings at 7:30a.  I know what a ghastly hour on a Saturday, but fresh cheap vegetables make you do strange things, especially as a graduate student with no dining hall credits.  Usually, I have a plan of what I need in my head so I can get in and get out before the 9:00a crowd.  This weekend I needed honey and whatever else I saw, which turned out to be a massive basket of small yellow potatoes and a beef kneecap for my dog.  The trick to getting the good price is walking around to see who has it.  DON'T buy the first thing you see, even if its on your list.  The closer to the entrance you are, usually the more expensive the goods are.
The market is stocked with in-season produce from local farmers.  There are also farmers/vendors who have bought packaged produce in bulk and then sell smaller quantities at the market.  Vendors at the market also sell clothes, jury, baked goods and more.  I always go to the farmers market to get my honey here.  When I first arrived for my 1L year of law school – before I started Newhouse – my allergies launched a vicious attack on my body.  I even had to go to the doctor to make sure I wasn't dying of some central New York illness.  In between coughing and sneezing a classmate told me to try local honey and it should help soothe my allergies.  Strangely, it did, in addition to a Claritin and a gallon of water a day.  So now I eat local honey just about everyday in oatmeal for breakfast or an evening cup of tea.  Luckily this year I was able to get the last of the wild flower honey.  It is so good, people wait for it all year.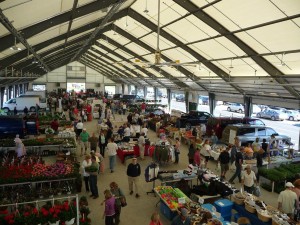 Another gem of the farmers' market is the apple cinnamon doughnut.  Oh my goodness.  All I have to say.  Especially when they are hot.  I have to get one every time I go to the market.  Its my treat for waking up that early on the weekend.
So, wake-up early, grab your coffee and head out to the farmers' market to get some healthy produce and a not so healthy apple cinnamon doughnut!