New Media Management – NYC Spring Break Trip
New Media Management – NYC Spring Break Trip
Every year the New Media Management team heads to New York City over spring break to get the opportunity to meet with industry insiders.  The media industry is moving quickly so it can be challenging to keep up to date.  This class is our chance to ask industry leaders from all types of industries and all levels of the company about those changes.
This blog will provide an overview of the companies and people (most of them Newhouse grads) that meet with us throughout the week.
The Guardian – Monday Morning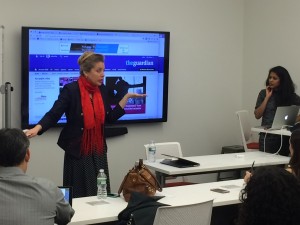 Here we sit, the 2016 New Media Management (NMM) graduate students, in New York City for our Case Studies in New Media Management class.  We are just getting started for our first morning and right away we get hit with a amazing presentation from The Guardian.
Meghavaty Suresh, a New Media Management graduate from 2015, brought in her boss, Rachael Post to talk to us about branded content. Rachael is the Director of Branded Content for Guardian Labs, a division of The Guardian.  The two of them gave a great presentation where we got to learn the details for media companies are hustling to make money in the new media landscape.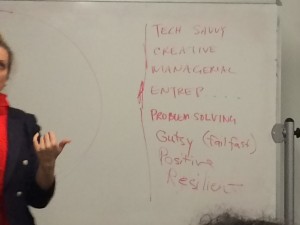 Rachael and Prof. Masiclat (NMM Director) came up with a list of all the attributes that someone looking to join the media world should have; tech savvy, creative, managerial, entrepreneurial, problem solving, gutsy (fail fast), positive and resilient.
MDeziel Media – Monday Morning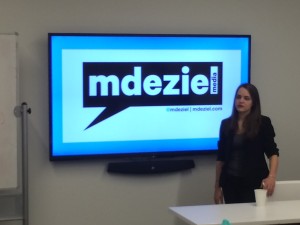 Melanie Deziel is one of the most sought after names on the lecture circuit for Branded Content.  She essentially invented branded content during her time at The Huffington Post.  She then moved onto The New York Times and wrote the amazing piece, Women in Prisons, sponsored by Netflix and Orange is the New Black.   She then moved onto Time Inc. and eventually decided to start her own consulting company centered around branded content.
During Melanie's time with us she ran us through an exercise where we built branded content for a product for a variety of newspapers and magazines.  It was interesting to hear her take on how the brands, the agencies and the media companies work together.
She has started a newsletter called The Overlap League which pushing out information about the world of branded content.
CoxReps – Monday Afternoon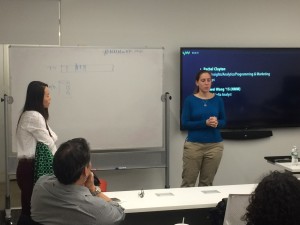 Opening up the afternoon session are Rachel Clayton and Xiaowei Wang, both Newhouse graduates.  Rachel is the VP of Insights/Analytics/Programming & Marketing and Xiaowei works for Rachel as a Digital Marketing Analyst at CoxReps.
CoxReps has a very interesting model where they bring both a large cable network and a specialized online marketplace to the table when selling advertisements.
Forrester Research – Tuesday Morning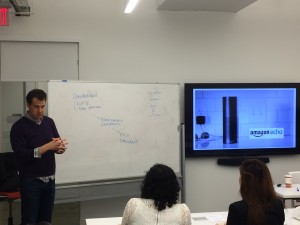 Our Tuesday morning presenter was Dr. James McQuivey, VP, Principal Analyst at Forrester Research and author of Digital Disruption, Unleashing the Next Wave of Innovation.
During the morning session he walked us through some industry leading products and how his company forecasted their success.  Some of the products we discussed were the Apple Watch, Google Glass and Amazon Echo.  His grasp of the digital landscape was awesome and the models he shared with us gave us a new perspective of the future of tech.
Foursquare & Swarm – Tuesday Afternoon
Jonathan Crowley, Product Development at Foursquare and Swarm, stopped by in the afternoon to provide us with an awesome overview of the dramatic rise of Foursquare.
Hearst, Proximo Spirits & UM Worldwide – Wednesday Morning
Bethany Devendorf (Hearst), Dylan Beyer (Proximo Spirits) and Edward McLaughlin (UM Worldwide) were graduates of the 2012 New Media Management class.  They provided our class with a look into where we could end up in our career.
They hold positions in brand management, sales engineering and integrated planning.  Their companies are very representative of the industry as a whole.  Proximo is the customer, Hearst is the publisher and UM Worldwide is the agency (note: this is representative only).
One of the more interesting things they talked about was how important storytelling is to their job.  The ability to build a brand falls on a company's ability to tell a story that connects with their target audience.
2U and MEC Global- Wednesday Afternoon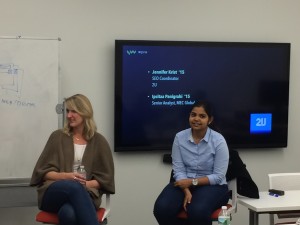 Jennifer Krist (2u) and Ipsitaa Panigrahi (MEC Global) stopped in to discuss their respective companies and experiences.  Both were graduates of the New Media Management program in 2015.  They both got a dual degree.  By turning their one year program into two they got their MBA along with the New Media Management degree.
Ipsitaa spends a lot of her time building queries from large datasets and analyzing them for patterns.  Her life lives in big data.  Jen on the other hand is a search engine optimization (SEO) coordinator.  Here job is to coordinate the functions of many teams within and outside her company.
Viacom – Thursday Morning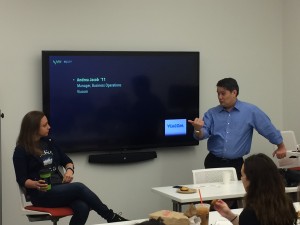 Andrea Jacob was kind to come talk to us about her many experiences.  She has worked at Viacom, AOL, Hulu and Synacor.  She is now the manager of Business Operations at Viacom.
Andrea had some really interesting insights into the inner workings of the TV world and how content gets placed onto mediums like Hulu and Netflix.
Ark Investments – Thursday Afternoon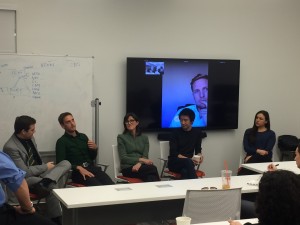 Catherine Wood (CEO/CIO), James Wang, Tom Staudt, Lisa Dodd and Sebastian Benkert stopped by from their NYC office of Ark Investments.  Both Tom Staudt and Lisa Dodd are New Media Management graduates.
Catherine's fund invests in disruptive technologies.  One of the areas they spend a lot of time learning more about is blockchain technology, the backbone of the bitcoin.  Their ability to learn more than anyone about an industry is instrumental to their success.
Overview
Our week has now come to an end.  We got to meet and question some amazing people in the industry.  What I found the most interesting is the many different industries that new media management graduates have the opportunity to work in.  Every industry now has an interest in content management, SEO and disruptive technologies.  This is what our program specializes in so we are very much in demand.