The Fashion and Beauty Communications Milestone @ Newhouse
The Fashion and Beauty Communications Milestone @ Newhouse
New York Fashion Week just passed, and being a fashion fan as well as wanting to get involved in the fashion business, I am trying my best to keep up with the industry. When I first learned about the Fashion & Beauty Communications Milestone academic sequence, I knew immediately it was for students like me, and decided to find out more.
I went to an event introducing the academic sequence last week at Newhouse, where we were introduced to the professors who were going to teach the sequences's courses. The Fashion & Beauty Communications Milestone is a sequence for undergraduate students at the S.I. Newhouse School of Public Communications and the College of Visual and Performing Arts. It gives students who are interested in fashion design and communications experience in related areas. Graduate students at Newhouse with an interest in fashion and beauty can take courses offered in the sequence, and are welcome to attend any of the events offered throughout the year.
After a brief introduction to the sequence, we watched a film called, "Bill Cunningham New York," which documented a legendary photographer, Bill Cunningham, who passed away in June 2016,at the age of 87.
Cunningham was practically a landmark in New York City. He was always in a patched blue jacket with an old-fashioned camera hanging on his neck, riding his bike around midtown Manhattan. The film was fun and heart-warming, and depicted fashion industry through Cunningham's lens. As we all know, photography is one of the most important components in fashion industry.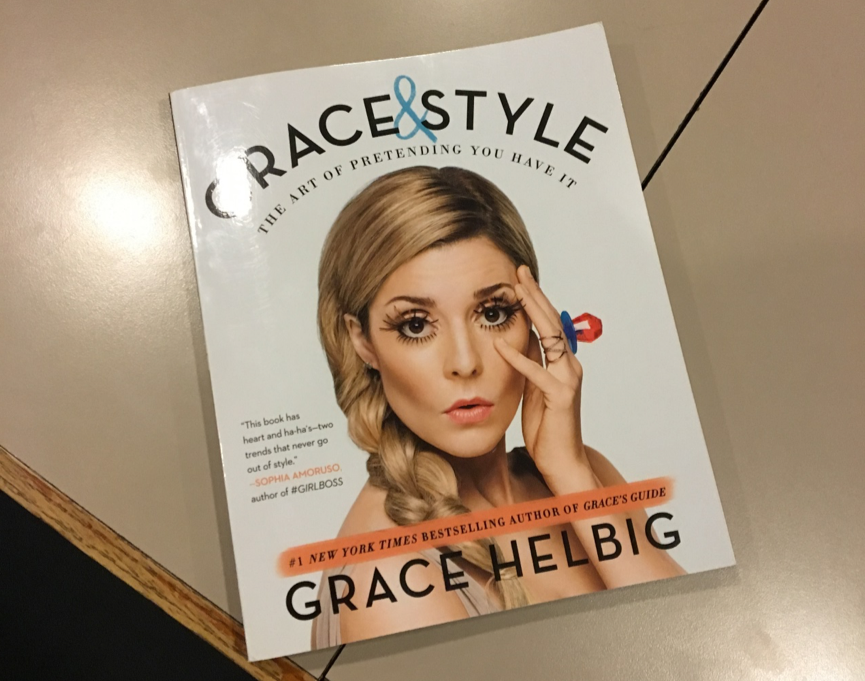 After the movie, I also won a book called, "Grace & Style." The author, Grace Helbig, is a comedian as well as a YouTube personality. The book suggested a lot of fashion tips from Helbig's own perspective. However, it is not the kind of fashion book that tells you what to wear. It's the kind of book that shows you a unique angle of fashion in a funny way.
The sequence provides courses from fashion advertising to interactive fashion communications; from history of fashion design to fashion and beauty journalism. If you are majoring in public relations, as I am, you would probably consider taking COM 500: Producing Cross-platform Messages for Fashion & Beauty Audiences. Even though I am a graduate student, I believe that taking courses offered in the sequence can help you get your feet wet and prepare you for your future career in fashion industry.
–Jie Fu is a graduate student studying public relations