I Tried goPuff and This is What Happened
I Tried goPuff and This is What Happened
One thing before I start: I'm not getting an incentive to talk about this, I'm simply sharing my experience.
After a long day of class and work last Wednesday, I thought it'd be a good idea to hangout in Food.com and get some work done before heading home. There's usually cards,flyers and magazines from student publications on the tables, so I didn't think anything of the neatly stacked cards near me when I sat down.
A while later some friends stopped to say hello and noticed the cards. One of them enthusiastically handed me one for goPuff, and explained that they have similar services in her home country. She told me it would be the future of consumerism. I skeptically took the card, discussed the pros and cons of the service it advertised and went home.
Fast forward to this week. I had nothing prepared for dinner and no beverage options besides water to fuel me post-workout Tuesday night. The thought of making a quick run to Wegmans or Tops to get something simple to cook made me eyeroll so hard at my lack of food prep for the week. I decided to get dinner via GrubHub and noticed goPuff's advertisement in-between some suggested restaurants.
Thinking back to the goPuff card in my wallet, I took it out and debated ordering a few snacks or drinks to go with my dinner. After scrolling through goPuff's website, which is basically a convenience store at your fingertips, I was ready to order. I did have to create an account (which wasn't a big deal) before entering the promo code on the card and placing my order. Apparently I earned what goPuff calls puff points for my order, too, which at some point may be used to redeem goPuff merch and prizes
Although ordering was easy, I did feel weird knowing I could've just drove to RiteAid or CVS to get the same things. Still, I appreciated the convenience. Apparently goPuff already operates in bigger cities like Boston, Atlanta, Columbus, Chicago, and Austin, just to name a few. They pride themselves on using their own warehouse stocks for items on the website and staying up all day and night to conveniently bring people what they need in 30 minutes or less — although thehours for Syracuse are only 12 p.m. to 4:30 a.m.
In other words, they can more or less be a lifesaver when you need them.
About five minutes into my wait, someone called me to say one item I requested was out of stock. I accepted the alternative recommendation instead of declining to receive the item altogether, and got a text when I hung up that my order was updated. Ten minutes later, my order arrived.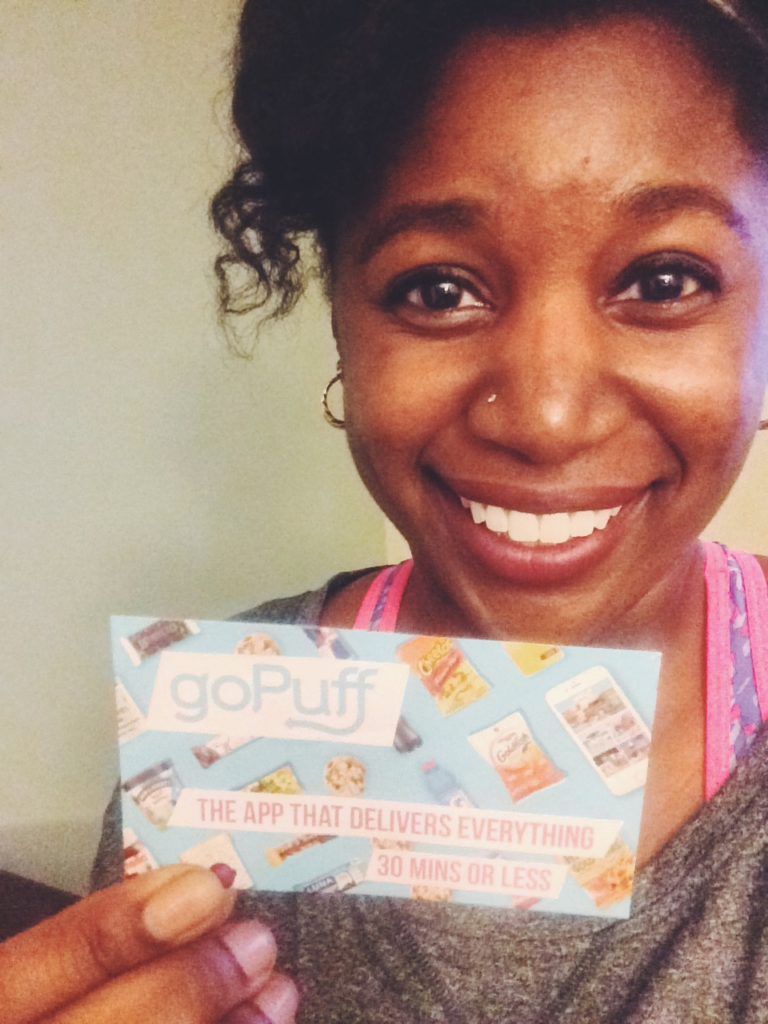 When I took the bag from the delivery lady and skipped back up to my apartment, I felt the kind of joy and satisfaction that only comes from seeing a waiter bring your food at a restaurant. The bag was larger than I expected, but everything I purchased was there.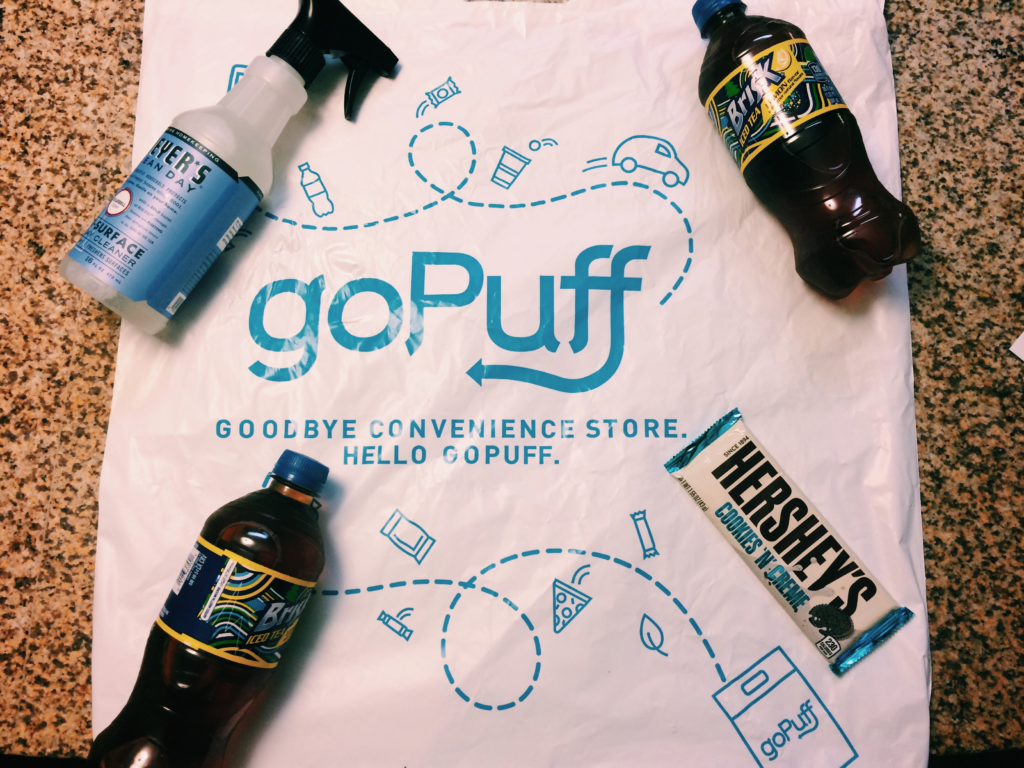 Would I order from goPuff again? Yes, actually I would. It was incredibly convenient and spared me from taking my post-workout sweaty and face-flushed self out in public when all I really wanted was to clean up and settle in for the spring finale of The Fosters.
The customer service was great, and I definitely appreciated the call to tell me something was out of stock (considering out-of-stock items are typically overlooked for most delivery services and met with an I-don't-know-where-it-is shrug when you check the bag and ask upon delivery). I also didn't mind the $1.95 delivery fee, but maybe others will.
I will honestly say the selection for fresh foods, snacks and drinks is a bit limited, so don't get too excited and think they can do all your grocery shopping for you because they can't — yet. I'm assuming that over time they will add more items that students frequently request, and expand to include more household items as well.
Bottom line: I was pleasantly surprised by goPuff, so it will be a future go-to when I need something but don't have the time or energy to get it myself.
-Mary Johnson is a graduate student studying public diplomacy