Picasso's Pastries And Café, Westcott's Best Kept Secret
Picasso's Pastries And Café, Westcott's Best Kept Secret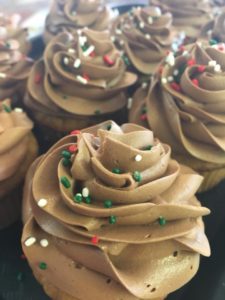 If there's one place that has become my safe haven throughout all the craziness of my first full semester of grad school, it's most definitely Picasso's Pastries and Café. This well-kept secret on the corner of Westcott & Dell is a cozy little pastry shop that feels like a whole different world when your goal is to catch your breath after a busy day. While it pains me to write about this place, given that the publicity might attract more people to my beloved chill spot, credit is due where it's deserved and Picasso's most certainly deserves it. With its funky décor, yummy desserts and friendly baristas, it's a local favorite. For the past four years as of their opening, Picasso's has set a standard for high quality baking in the Syracuse area.
On an average morning, I'll leave my home, walk down to the shop, order my usual (for this past month it's been an iced almond milk mocha and a plain croissant), and grab a table while I do some research, work on some writing, or plan out my next big adventure (heads up, I may or may not be writing about my upcoming trip to Madrid soon!) while enjoying my nice cup of Kubal roast and listening to some chill music that adds to their cozy vibe.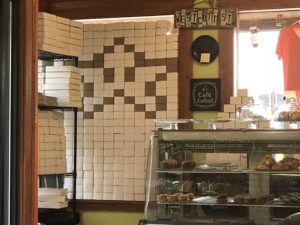 One of my favorite things from Picasso's is most definitely how they feed my inner fangirl without even realizing it. Every once in a while there will be some beaded Dragonball or Pokémon decoration hanging around, or a sketch, or even just this week, a pastry box 8-bit depiction of a Super Star! Most of their artwork, regardless of the medium or if it's pop culture or otherwise, is for sale and made by local artists. Every time I make my way down there, I wonder what their next addition is going to be. So far, I've never been disappointed by their creative nature, and honestly I doubt I ever will.
If you happen to find yourself around the Westcott area; please, do yourself a favor and stop by. I assure you that you won't regret it.  Perhaps you'll catch a glimpse of me in a table while enthralled in a book, or maybe just find your new favorite pastry. If you're not entirely convinced yet, make sure to follow them on social media, and enjoy your mouth watering at the sight of their beautifully delicious creations.
Just make sure you stop by anytime other than Mondays, since their hours of operation are Tuesday to Friday from 7:00 a.m. to 7:00 p.m., Saturdays from 8:00 a.m. to 7:00 p.m. and Sundays from 8:00 a.m. to 3:00 p.m.
Enjoy!