All In Startup: The Perfect Book To Help You Breakdown Your Bootstrapped Business (Review)
All In Startup: The Perfect Book To Help You Breakdown Your Bootstrapped Business (Review)
All in Startup, authored by Diana Kander, is a book that caught me off guard with its intriguing plot that eloquently-taught lessons about lean startups. I went into the book expecting typical numbered bullet points and real testimonials, but I was treated to an enjoyable tale involving Owen Chase and his trials and tribulations keeping ReBicycle afloat.
Owen was operating his own startup called ReBicycle and working at a major loss, struggling with hundreds of thousands of dollars in debt. He gets a free opportunity to play in the World Series of Poker (WSOP) for his friend Pitchford, and he ends up winning big in guaranteed funds. The meat of the story lies within Owen's interactions with Sam Donovan, an entrepreneurially-savvy young woman who was also in the WSOP. She and Owen (who is married to Lisa, his wife who stood back home), begin talking about how Owen can resurge his failing ReBicycle business and Sam gives excellent advice that is written in bold throughout the book. Although Sam develops feelings for Owen, she remains sharp when giving him entrepreneurial advice, some advice I will carry with me the rest of my life.
My favorite piece of advice from Sam was on page 58, when she said "people don't buy visionary products. People buy solutions to their problems." This theme was essentially sprinkled into the narrative every now and then, urging the reader to realize the importance of good innovation. As I develop Doodle the News, I try to hone in on this type of thinking, even though my start up doesn't sell a product for people to buy. At first I had to identify a problem I deal with myself and how I can fix it; I want a platform where I can view concentrated, reliable news, as opposed to scrolling outlets like Facebook, Twitter, or Reddit (although Reddit is nice). Doodle the News will be just that, and I will try to make this news as easily-digestible as possible, so consuming the information will be quick and easy, as another problem I have is meaningful news being too long to consume. I, however, shouldn't continue to rattle on about problems that only pertain to me, as Sam's next big point is key to entrepreneurial success (one more quick problem: people who doodle when they're bored but end up throwing the drawings away).
Sam also taught Owen the importance of gaining real, outside perspectives from customers that are in his market. Asking questions is key, as Sam gives Owen a good template to work with on page 70.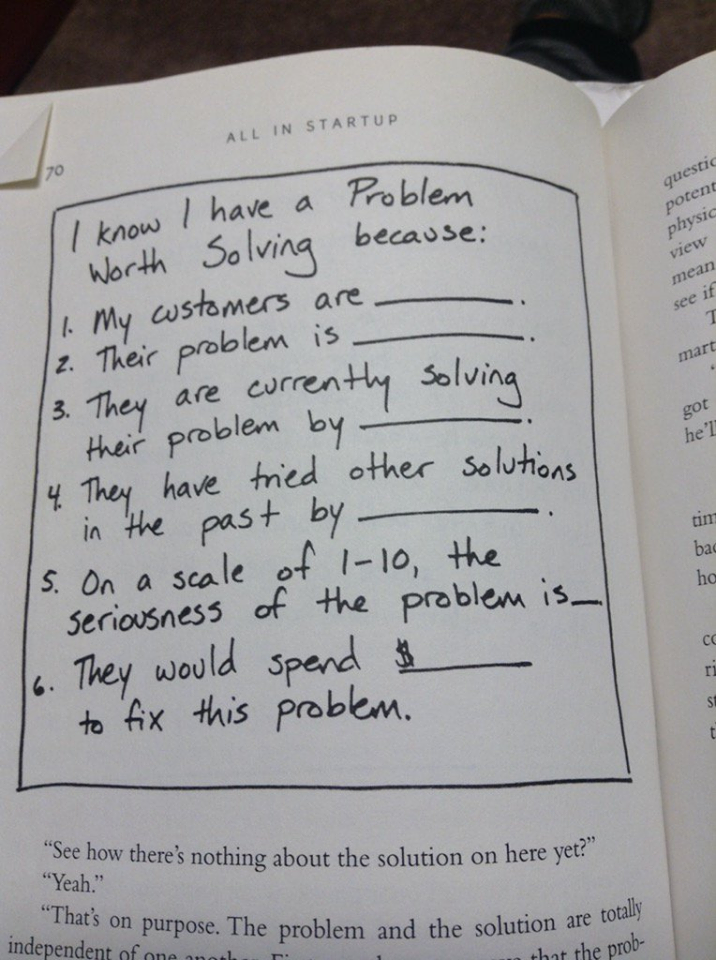 Owen then goes on to create questions tailored to his bike business, and eventually finds a migraine problem to solve and make income streams for himself. I myself have begun asking more questions about my business. Luckily in today's digital media landscape, I can gauge people's opinions with Twitter polls, post my doodle in Reddit comments for up/down-votes, and more. These outlets help in how I structure Doodle the News in my segment of customers interested in entertaining, bite-sized news.
I could go on and on about how much I learned following Owen's story. I however, did not really enjoy the gambling portion of the book. For the most part, I would always feel less engaged with the narrative when the story delved too deep in what cards Owen was playing at the WSOP. I get how it was supposed to parallel his business as well, but I felt like it was beating a dead horse after a while. Maybe it's because I have some underlying voodoo against gambling because I grew up a Catholic and bits of that upbringing still reside in my mindset, but I just didn't buy into the poker story much. It just seems like too much luck involved for me to give a hoot. Albeit, some elements of poker did teach great lessons about working with lean startups. The book talks about how you should reduce the amount of time you need to rely on luck when playing poker, and the same rule should apply in a venture
I would be remiss not to mention the excellent storytelling. The author portrays the high stakes of Owen's situation amazingly; this was the first time since 7th grade I just could not the book down, especially in moments when Lisa had to confront Owen with her worries about him going down another path of failure with ReBicycle, suggesting that he should consider secure options. Personally, I go through these types of conversations with my parents, and these hard-hitting moments moved the story along well. It even made me think about the future and how I will ensure that I will be able to take care of not only myself, but the lucky woman and (hopefully) children. I certainly do not plan on using the WSOP as a crutch to get back in the game and pay off my debt, and reading this book helped make sure I don't put myself under any huge financial burden.
Overall, All in Startup was a terrific book I would recommend to not only entrepreneurs, but people just wanting to read a well-told story. I commend Kander for crafting such a cohesive strategy guide for budding entrepreneurs like myself to assess the value of their ventures, and find ways to ensure it will succeed. Her dedication to advancing her audience's mindset on lean startup operation blew me away in her acknowledgements section of the book, and I was happy to be a part of her audience. Although I wasn't the biggest fan of the gambling in the novel and how integral of a role it played, I still believe any person, even young children, should read this book. I give the book an overall 9.5/10.