Spotlight on the Black Graduate Student Association
Spotlight on the Black Graduate Student Association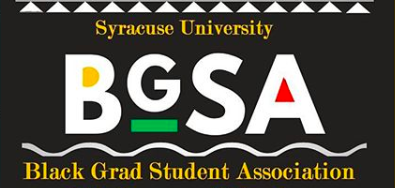 The Black Graduate Student Association has been a small, yet vibrant part of my experience at Syracuse University thus far. Leaving my alma mater, an HBCU of 4,000 students enrolled to transition to Syracuse University, I felt like a fish out of water in my new environment.
BGSA is a network of graduate and Ph.D. students of color at SU and from schools in the surrounding area. The organization provides professional development, fellowship and an outlet to discuss pressing issues in our communities.
Minority students comprise 25% of Syracuse University's campus. The classroom is a space that welcomes diversity in opinions, people and promotes confident interaction between different groups. However, it is imperative for students of color to have a platform to commune.
"As a graduate student of color on SU's campus, I am, we are in an unfortunate position, where there are not a great deal of programs catered to our experience. There are not a lot of organizations in which we can talk and share freely about issues that go on in our communities, the news, etc. There are not a lot of spaces for us to fellowship. As an executive board member of BGSA, it is important that we have organizations like BGSA to refine and embrace blackness as graduate students. BGSA is a necessity to the campus experience for students of color, because it provides us with a space to talk and share freely, to commune freely, to engage, to challenge, to speak, to celebrate because these spaces barely exist. BGSA's presence on SU's campus [is] to bring together communities of black folks. Syracuse is an interesting place to live and SU is an even more interesting experience as a student of color, and in these interesting spaces, there is always a need for a Black Graduate Student Association to talk about the prevalent issues within our communities. There is a need to bring people with similar ties to talk to each other. BGSA is a necessity because want to heighten the experiences of graduate students of color to know we are all in this together!" —Alessa Garland-Smith, Vice President of BGSA, Masters in Cultural Foundations of Education.
I am so grateful for this network of students, without them it would be difficult to fulfill tasks such as finding a beauty supply store for shea butter, finding local hairstylists that specialize in my hair texture or satisfying my fix for Jamaican food.
Community service is a vital aspect of BGSA. The organization recognizes how imperative it is to serve the surrounding community outside of "The Hill." Service events include hosting fresh food giveaways, volunteering at the Samaritan Center and fundraising for a cause. BGSA's outreach to the community serves as an impactful liaison of Syracuse University.
BGSA promotes professional and personal growth while never faltering one's cultural or identity. Participation in weekly events is not exclusive to students of African descent–BGSA welcomes inclusivity. Keep up with general body meetings and events here.
The saying "growth never comes from comfort zones" sums up my embarkment into this new chapter of my life. My experience at Syracuse University has pulled me out of my comfort zone in ways I could not fathom. However, the experience has been enriching in and outside of the classroom and I cannot wait to see my growth upon graduation! BGSA has been a refreshing addition to my graduate school journey. The solidarity within the group provides a confidence boost when I am often the only voice for my community in a room.