Insider Knowledge: Advertising campaigns capstone course. part 1
Insider Knowledge: Advertising campaigns capstone course. part 1
One of the things I love about Newhouse is being able to work with real world clients while learning in the classroom.  In the advertising program, student's curriculum culminates with the capstone course ADV 626, Integrated Advertising Campaigns.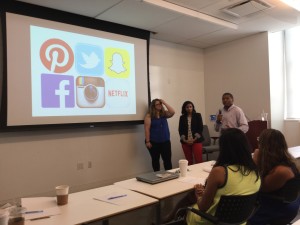 This past spring semester three "agencies" were formed among the students: FRINGE, White Zebra and IDA.  The 15 aspiring practitioners, competed against one another for two new and challenging business pitches within six intensive weeks.  The clients included the global conglomerate Walmart, sponsored by Saatchi & Saatchi and BRAVO assigned by 360i.  Saatchi & Saatchi, is a reputable multi-national ad agency and 360i, is the best digital ad agency named by Advertising Age.
Teams made their pitches in a conference room overviewing the Hudson River at Saatchi and Saatchi in NYC, where FRINGE won the campaign with their idea "Holiday Hero".  The client acclaimed their creativity and simplicity.
At 360i's headquarters located in the historical building, teams presented their re-branding campaign for BRAVO to a group of top strategist.  BRAVO is a cable television channel known for their bold and innovative programming features.  The White Zebra "agency" with the "Culture Pops" idea, impressed the client with their brilliant insight and flawless strategy.
The executives of both clients were thrilled by the creative ideas and high caliber reflected in the campaign books and presentations.
Come back for more insider knowledge about the 2015 advertising capstone project featuring in-depth interviews with members of FRINGE and White Zebra "agencies".