Leaving Syracuse
Leaving Syracuse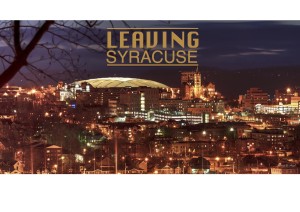 Syracuse is in the season of saying goodbyes. After being affiliated with five different universities and living in three different countries, I suppose I should be more or less prepared to say goodbyes after so much frequent moving. However, leaving Syracuse is hard in such a busy season of Capstone Examinations for PR graduates, Maymester intensive courses, securing internships/jobs and moving out.
Looking back at my year in Syracuse I would not change anything, but I would suggest future Newhouse students to explore more, get involved in the local community (especially the city of Syracuse) and other colleges at the university.
I understand that graduate-level students have enough on their plates already, but the university has so much more to offer for your personal growth.
Just a couple of examples:
• Moynihan Institute of Global Affairs offers Different Language Tables, the place where you can practice your second or third languages with native speakers. In case you did not find your language table – you can organize one. Click here to learn more.
• Syracuse University Program for Refugee Assistance (SUPRA) is a student initiative that provides ESL classes for the refugee community in Syracuse. Did you know that there are over 20,000 refugees in Syracuse? SUPRA is an exceptional way to give back to your new local community and brush up your communications skills while sharing in all of the stories that you will hear there. Learn more at their website, their Facebook page or email to SUPRA.SyracuseU@gmail.com
As Arthur Page said: "Remain calm." Good luck to Newhouse Class of 2016 and all our best wished to the Newhouse Class of 2017!
Photo credit: Original photograph by Everet Regal, design by Ayuna Dorzhieva