Annual Prism Concert Held In Setnor Auditorium
Annual Prism Concert Held In Setnor Auditorium
On Marth 29th, the annual Prism Concert was held in the Setnor Auditorium in the School of Music. My friend and I happened to see the poster of the concert in Newhouse and we just couldn't wait to see it. The Prism combines the light and the music, providing the audience a 360-degree immersive experience. It actually did. The songs performed at concert were mostly the original songs that students compose themselves. There are vague, vivid light-dot projections on walls to give a soft and romantic tone, accompanying the melody. Sometimes, the auditorium will be completely black, only leaving the performers standing in a light circle to play instruments or sing.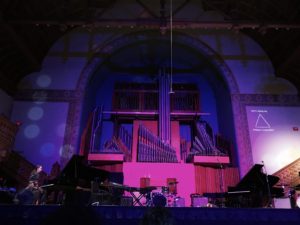 There are acapella, jazz, rock, and many other music genres played in the concert. I like the jazz-funk fusion performance the most. I have been a jazz fan for a couple of years but this is the first time I've heard a jazz set live. When mixing jazz and funk together, they completely create a magic chemistry for you, just trapped in that vibe and leaving your sorrows behind.
Another performance that I am very fond of is an all-male acapella chorus group called Otto Tunes (here is their Facebook page: https://www.facebook.com/OttoTunes/). They were singing The Beatles' Blackbird at the concert. There are two reasons why I am particularly fond of their performance. First, their chorus was beautiful, holy and harmonious. It is hard to imagine that such a beautiful sound was performed without instruments. Second, it is because their group name contains our Syracuse University mascot "Otto the Orange" so I think it is quite representative for our university.
There were a lot of students coming as audience members on that night. Since the concert also opened to public, I saw there were some Syracuse residents coming to enjoy music with us. There was no entry fee for the concert and they also provided free online streaming services for people who couldn't make it to school to watch the concert. However, the live streaming was only available during the concert.
The concert lasted two hours with a 20-minute-or-so intermission. This is the second time I've visited the School of Music for a concert. Last time, I went here for African music; I encourage more and more students come to the music school's auditorium to listen their performance. Not only because the students are very talented, creative performers serious about their music career, but it is rare to have the opportunity to see some good live music on campus.
If there is any suggestion to make the prism concert to be better, I think the light show accompanying the music is expected to take more forms. For example, a laser reacting to the beats of the music. Other than that, I think it is a great concert and I am looking forward to more activities like that from the School of Music.
If you missed the prism concert this time, don't worry – there are a lot of concerts available regularly in the school. Check on the billboards and your mailbox more often. Call your friends to join. I personally guarantee you that it absolutely won't be a bad decision.