The Career Path Of An LA Producer (And Newhouse Alum)
The Career Path Of An LA Producer (And Newhouse Alum)
Today I'd like to invite one of my classmates Baihui Chen, of the 69th TRF graduate students of Newhouse, to share some of her experiences around how she grew to be a producer in LA in a short time. Over the course of several months, she has produced more than 10 short films and held a successful big activity in LA. One of her short films is taking part in Cannes Film Festivals.
What's the first step?
a. Don't ignore your potential network.
Chen said she was a lucky dog when she tried to get an internship in LA. She didn't submit her resumes or take interviews like other students. Because once when she worked in China, she got an opportunity to meet an American producer named Julia Jay Pierrepont. At that time, she didn't know that one day she would work with the producer, but she still kept contact with her. When the producer knew Chen was looking for an internship, she gave her a wonderful choice.
b. Don't only focus on money.
As an international student in here, basically, Chen couldn't get a paid job in CPT, which means that she had to afford something in LA. However she was different from other students who liked to complain about working without payments and has always kept working hard for her boss Julia. Thus, Chen's boss noticed her ability and attitude, and chose to share more opportunities and activities with her.
c. Don't refuse different chances.
Thanks to Julia, Chen got a chance to take part in a pre-party of the Emmy Awards. At this party, she got in contact with an acting agent. The agent learned about Chen's acting experience in China and in Syracuse; she wanted to be her agent and helped her start her acting career in LA. Although Chen's dream is to be a producer, she agreed to sign the contract. She knows that it's necessary for an extraordinary producer to extend her or his network.
At that moment, Chen had laid out her road to becoming a producer and actress in Hollywood.
How to grow from a PA to being the chief director in Oscar China Night
On March 4th, it was a big day for the filmmaking industry: Oscar Night. Besides Oscar showings, there was also another important event being held in Beverly Hills, which was Oscar China Night. The Oscar China Night is a social event which aims to improve the cooperation of China and Hollywood in filmmaking. Chinese producers, actresses, directors, enterprises and Hollywood producers as well as directors stay together and share their new projects. The activity is very complex because it needs to take care of all guests, arranging programs on shows and organizing different meetings. Chen, as a young filmmaker who just stepped into adult society a half year ago, has been the chief director. However, Rome wasn't built in a day.
In the beginning, she was just one of the PA's to help her boss Julia handle things. Then they asked her to help to find volunteers for the show. During that period, she was assigned to build a post-production team. Then, step by step, she started to lead more and more departments. One day, when the leader who organized the show found that there was a girl who was familiar with the whole process, he asked her to be the chief director.
Chen's experience in organizing Oscar China Night is a good example for us. Sometimes, we are assigned to do some tiny work. But when we do it well, people may realize suddenly that they couldn't complete it without us. Then, we could be promoted to a higher-level job. Chances usually come to us quicker than we imagine.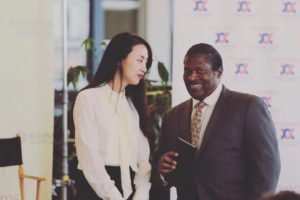 Suggestions for Newhouse Students (Especially for International Students):
Many people think that it is so tough to stay in LA and find a good job. However, Chen believes that it all depends on the person. In order to achieve goals, people firstly should keep enough patience and have strong desires; they could affect others through their positive attitudes.
Then, people should find out their merits and focus on them. Different people may be good at different things because of the variety of their personalities. A useful method for getting a good start in one's career is knowing what kinds of job are appropriate for them. Maybe what you love cannot be your suitable career, but it still could be a hobby in your life. As for your career, please choose the one you are capable of handling.