My First Experience At Syracuse University's Annual Block Party
My First Experience At Syracuse University's Annual Block Party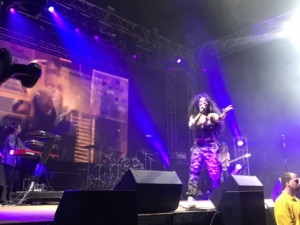 I heard a lot about Syracuse University's Block Party even before I participated in it; it is a quite popular event among students, which is represented in how hard tickets are to purchase. It is like a race among others to purchase the best location on the block party. On the morning the ticket purchase was prepared to open, almost everyone in my class was talking about it. Even when the ticket sale was over, there were still many messages asking around for the tickets. Thanks to my friends who had been acting quickly when the sale was open, I was lucky enough to be at the block party dance floor, receiving a VIP experience enjoying the entire show standing at the first row of the audience. In this year, the party was held at Carrier Dome on April 27th featuring music guests such as Gucci Mane, SZA and Medasin. However, before that, there was also a Mayfest event at the afternoon held in front of the Slutzker Center. Live music, free food, games and photo walls were all available at the Mayfest grounds. It was a good place to hang out with friends and relax. I had a good time here enjoying my free french fries and friend gathering. It is like a little warm-up for the evening block party event. Luckily, the weather was really nice that day. It gave me an illusion that summer is approaching (sadly, the temperature dropped sharply on Saturday, proving me wrong about my feeling).
At around 6 p.m., my friends and I left Mayfest, heading for Starbucks to grab some coffee then get ready for the big event at night. The dance floor ticket entrance was separated from the normal one and I receive a special wristband as permission to the dance floor. They were also some volunteers giving away free t-shirts around. My advice is to stop and grab one t-shirt if you have the opportunity to be in the party in the future. It is really well-designed and memorable. It reminds me of many nice memories from the night when I put it on later.
The show started around 7 p.m. Since Medasin called in a sick day, the Los-Angeles based DJ Orange Calderón filled in with her playlist. Her playlist spanned from Rihanna to Bruno Mars, successfully leading the crowding dancing slowly to the beat. Her performance continued about around 90 minutes. Actually, I was a little impatient the night of since the interval between each artist was a little bit too long. Besides, there is no clear explanation about each artist's show-up time, so you have to continuously wait. That's what I think they need to improve later.
After around a 30-minute break after Orange Calderón's performance, SZA entered the staged with her beat 'Go Gina'. There was a vaporwave-esque video playing behind her while she was singing. Owing to her passionate performance, the people in the dance floor were lit up and danced with her. She shared some of her own stories of "getting high" during her college time. The audience burst into laughter about her words. Gucci Mane showed up a little late with his own DJ trying to set the mood for the audience for a long time. There was some audience left after SZA's performance, but the remaining audience seemed to really enjoy the rap treat brought by Gucci. The audience seemed more relaxed dancing
It was past eleven when we finally walked out of the Carrier Dome. It is not my first time to be in a situation like this but it leaves a deep impression since I am graduating this May. I would love to hold every good memory in my head. If you have the chance to participate in it next year, don't miss it!