Public Diplomacy – What's That?
Public Diplomacy – What's That?
If you have interests in different cultures, conscious of the swaying geo-political climate or how foreign policy relays their messages, then public diplomacy may be a career choice for you!
The public diplomacy program is an exclusive dual degree master's program at Syracuse University. Students receive a M.A. in international relations and a M.S. in public relations. The two-year program offers a plethora of opportunities to learn, network and explore career options. First and second year students are members of the Association of Public Diplomacy Scholars. The joint program recently celebrated its 10th anniversary!
What Is Public Diplomacy?
Public diplomacy is the communication to non-state actors to build relationships ("win hearts and minds") with foreign publics. The beauty of public diplomacy is that it transcends different sectors. It is valuable in government, the private sector, international and non-governmental organizations.
"Traditional definitions of public diplomacy include government‐sponsored cultural, educational and informational programs, citizen exchanges and broadcasts used to promote the national interest of a country through understanding, informing, and influencing foreign audiences… [it] focuses on the ways in which a country with citizens in other societies…it starts from the premise that dialogue, rather than a sales pitch, is often central to achieving the goals of foreign policy. It involves not only shaping the message(s) that a country wishes to present abroad, but also analyzing and understanding the ways that the message is interpreted by diverse societies and developing the tools of listening and conversation as well as the tools of persuasion." -USC Center on Public Diplomacy
Different Facets of PD
Public diplomacy can be described as an umbrella, what lies under are several subsections of what it takes to "win hearts and minds."
Cultural Diplomacy
The Institute of Cultural Diplomacy defines cultural diplomacy as: "course of actions, which are based on and utilize the exchange of ideas, values, traditions and other aspects of culture or identity, whether to strengthen relationships, enhance socio-cultural cooperation, promote national interests and beyond; Cultural diplomacy can be practiced by either the public sector, private sector or civil society."
A prime example of cultural diplomacy are study abroad programs or cultural exchange programs.
Gastrodiplomacy
Gastrodiplomacy uses food as a soft power to appeal to others. NPR defines it as using food as a tool to foster cultural understanding among countries (Poon, 2014).
One of the most renowned gastrodiplomats, Anthony Bourdain stressed the simplicity of food. His excursions around the world gave his viewers a travel diary, history lesson and urge to indulge in the many cuisines all in one episode of Parts Unknown.
Place Branding
Place branding is often used interchangeably with nation branding and/or city branding. Countries such as Italy and France have created signature brands that can be identified via media, culinary, culture or fashion. Place Brand Observer defines the term as "the process of discovering, creating, developing, and realizing ideas and concepts for (re)constructing places identities, their defining traits and building a sense of place."
PD Symposium
The PD cohorts plan and execute a symposium every year to showcase the many facets of the industry and provide a learning opportunity for the greater SU community. Past symposiums featured distinguished diplomats and well-known guest speakers from in and out of the Syracuse community.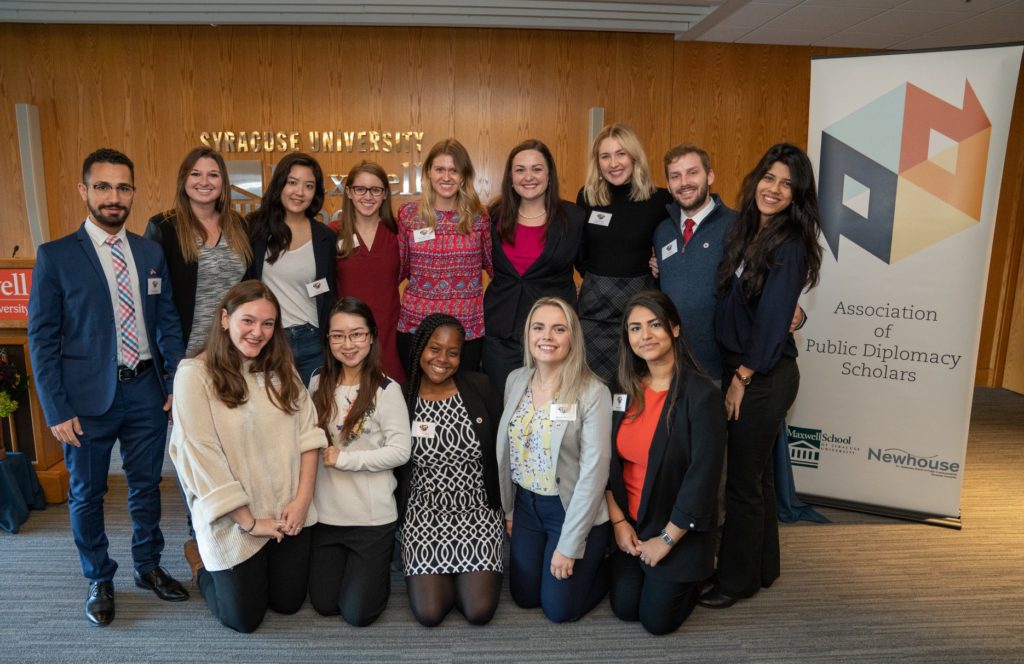 What attracted me to the program is the real-world experience component. PD students are required to intern during their second summer. Past students have interned in Brussels, Singapore, Geneva and Strasbourg, France. Their final spring semester is spent in Washington D.C. The Washington Practicum allows master's students to work and learn. In addition to a spring internship, students attend two seminars addressing issues in public diplomacy and public communications at the Center for Strategic and International Studies (CSIS.)
The past six months in the public diplomacy program has been eye-opening. During the summer, my Introduction to Public Diplomacy course opened my eyes to a career in place branding. To be quite honest, I've never heard of the term. Through further research, I've learned that it is a combination of my love of travel, tourism, cultural experiences and promoting economic development. Check out my next post as I thoroughly explain the beauty and importance of place branding.