How to Stay Motivated This Spring Semester
How to Stay Motivated This Spring Semester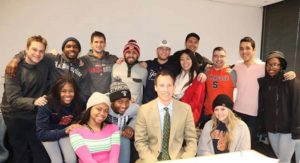 For many students at any academic level–especially in college, staying motivated can be a challenge during the spring semester. So, how do students stay focused and finish off the school year strong?
Well, for graduate students at Newhouse, staying motivated is not much of an option. With the rigorous work and high-expectations of the Broadcast & Digital Journalism (BDJ) program as well as other master's programs at Newhouse, students hope in finding a job or internship post-graduation–and it's predicated on how they perform in the spring semester.
This is the time of the year students beginning applying for jobs and internships. This means they are building a portfolio and looking for additional experience to include in their resume.
The spring semester is also a time for students to polish their skills and learn as much as they can before they enter the workforce. A lot of Newhouse graduates will be working in for media outlets, so the time to make and learn from mistakes is now. Newhouse takes pride in sending its students off ready to work day one for any job.
In addition, the work and expectations don't get any easier in the spring. After two semesters (summer and fall for BDJ grad students), professors expect to see growth from each student and this extends into the spring and summer semesters. (BDJ students are required to take a class in the summer and a six-week capstone following graduation in May).
So, for many students, the spring semester can be a let down academically, but here at Newhouse that is not the case. Opportunities at Newhouse are very competitive and that is reflective of what it will be like in the real world. Newhouse does a great job preparing students for the next step in their professional or academic career and a strong performance in the spring semester is vital to each student's success.