Where do I live when I get to SU?
Where do I live when I get to SU?
As grad students, many of us of have been through the whole apartment shopping thing in our undergraduate careers. Now it's time to do it all over again but, where do I start?
Considering where to live can be pretty hectic on top of registration, financial aid and all of the other obligations you have to fulfill before you actually get to Syracuse. So I'll give you a few tips to help possibly make the transition a bit smoother.
Here are a few things to consider:
Affordability
Location
Transportation
Parking

 

Reviews/Word of Mouth
Affordability 
Attending Syracuse University is expensive in itself so I know that when you're trying to find somewhere to live you want to save as much money as possible, while still being able to live comfortably. When looking for a place it's best to figure out if you want a roommate or not. The more people that are in the apartment the less amount of rent you will have to pay.
If you are like me, you want your own apartment. I had roommates throughout all of my undergraduate career so coming to grad school and having a roommate was NOT an option. I wanted my OWN space. 
Currently, I pay $1530 a month for a furnished one bedroom apartment, utilities included. Pretty steep, huh? 
Apartments in the University area can range from about $500 a month to possibly about $2,000 a month. Deciding the price you are comfortable with paying is something to think about.
Location
The number one question… can you walk to school from your place? The proximity of the school to your apartment is very important. With the weather here in Syracuse, you have to be prepared for the worst. Newhouse is on Waverly Avenue, across the street from University Avenue where there are blocks of student housing.
Another thing to consider is if there is anything near it? Grocery or corner stores, food places, or even Starbucks? If these places are walking distance that is a plus, especially if it is on your commute back and forth to school.
It's not a secret that Syracuse can be a pretty dangerous place to live. So it's very important to check the area. The University area is the best place to live.
Transportation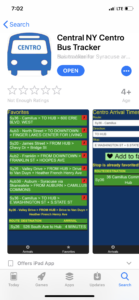 Other than walking, some apartments provide a way to get to school and so does the University. 
Before you make your final decision, find out if there is a shuttle that provides rides to and from Newhouse or if there is transportation within the proximity of the school. The shuttle is a life saver on snowy or rainy days or even when you just don't feel like walking. 
If the apartment doesn't provide transportation, check the university bus schedule. Learn the transportation routes. They can come in handy. The City of Syracuse has an application that you can download to your phone. Just search Central NY Centro Bus Tracker. 
Parking
If you are driving here in Syracuse, prices for parking can get crazy. Depending on where you live,  you may have to purchase a parking pass. The best thing to do when searching for housing is to check parking availability and if there are any fees.
There's a lot to consider, but the process is worth it when you get to stay somewhere that's ideal for what you desire while being in school.