Jill Mitchell–'I Consider Myself Lucky'
Jill Mitchell–'I Consider Myself Lucky'
From an outside perspective, Newhouse looks glamorous. It's a mix of the old and the new. It's innovative and is easy to catch someone's eye.
It's safe to say that it's just simply beautiful.
But what's on the inside is even more beautiful. More specifically, deep inside of Dick Clark Studios.
There you will find the crew that truly keeps the operations running. A crew that the broadcast and digital journalism program wouldn't be able to go without.
From live labs, to newscasts, and all the way to the operation of ACC Network studio shows, the job always gets done. They help get it done smoothly and efficiently.
Oddly enough, it may have taken a broken leg and several years out in the news field for one of those people to realize they wanted to become part of the Newhouse family. To join the team and make a change for our future journalists and producers.
Her name: Jill Mitchell.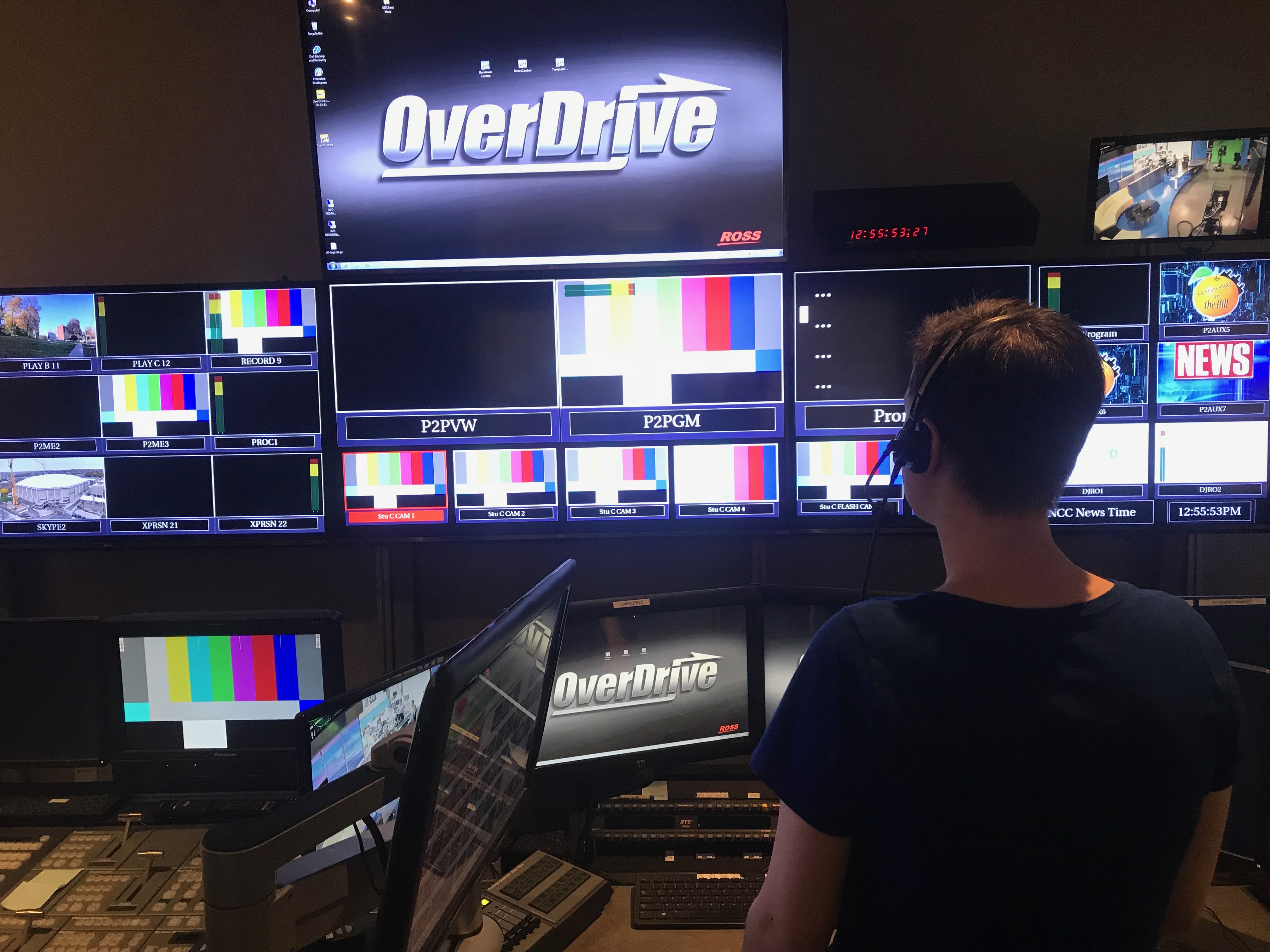 Jill's journey started when graduating from Ithaca College. After a stint in Chicago for six months, she came back to Central New York and took on a position at News Channel 9 in Syracuse.
And it was something that a producer said to her that foreshadowed the future years as support for students.
"I had a producer at News 9 who asked me if I was ever going to have nothing negative to say about the newscast. And I said 'never.' Because that means you've stopped learning and growing and getting better."
And in 2016, she took her shot at Newhouse. As a television, radio and film grad student, she got involved with running newscasts and live labs through the operating system as an Instructional Associate. Eventually, that led to her staying in Newhouse as an Overdrive Operator.
And some of that credit goes to a high school football game. Jill stood on the sideline as the photographer for News 9, when a play came right in her direction.
Seconds later, a helmet would connect square in her leg, and taking her off field duty for quite a while. Almost a telling sign that would keep her behind the scenes.
"I've always been a fan of being behind the scenes," she said. "I do miss shooting out in the field. I do not miss getting tackled on the sidelines."
Although that may not have surely placed her in Newhouse, we can pretend that had an effect. Either way, she left a job in news to be here at Newhouse and lend her hand.
"I like to be able to help the students get what they want," she said. "It's nice to be that rock to be there and be like 'hey we're going to be okay.'"
And something that sometimes gets misconstrued is the importance of people like Jill, and the crew behind the scenes. Everyone looks at the talent on air and gives them all of the credit. In many cases, they are the star. So what about the production crew?
"When you sit in the director's chair, you have all the power really. You're in control of when the cameras go up, when the talent talks, when the music happens. You're in charge of everything and you have to make it right," Jill said. "It is tough that sometimes you don't get acknowledged for stuff that goes right, but just the stuff that goes wrong. But that comes with the territory. I think if you look at it like a learning and growing opportunity, and you pass that along, it helps."
Whether it be getting here early to run a live lab for an 8:25 BDJ class, or sticking around until later hours of the night for a studio show, she's always here. And she's always ready to make it better for the students.
But why?
Well to her, it matters. Everything they do matters.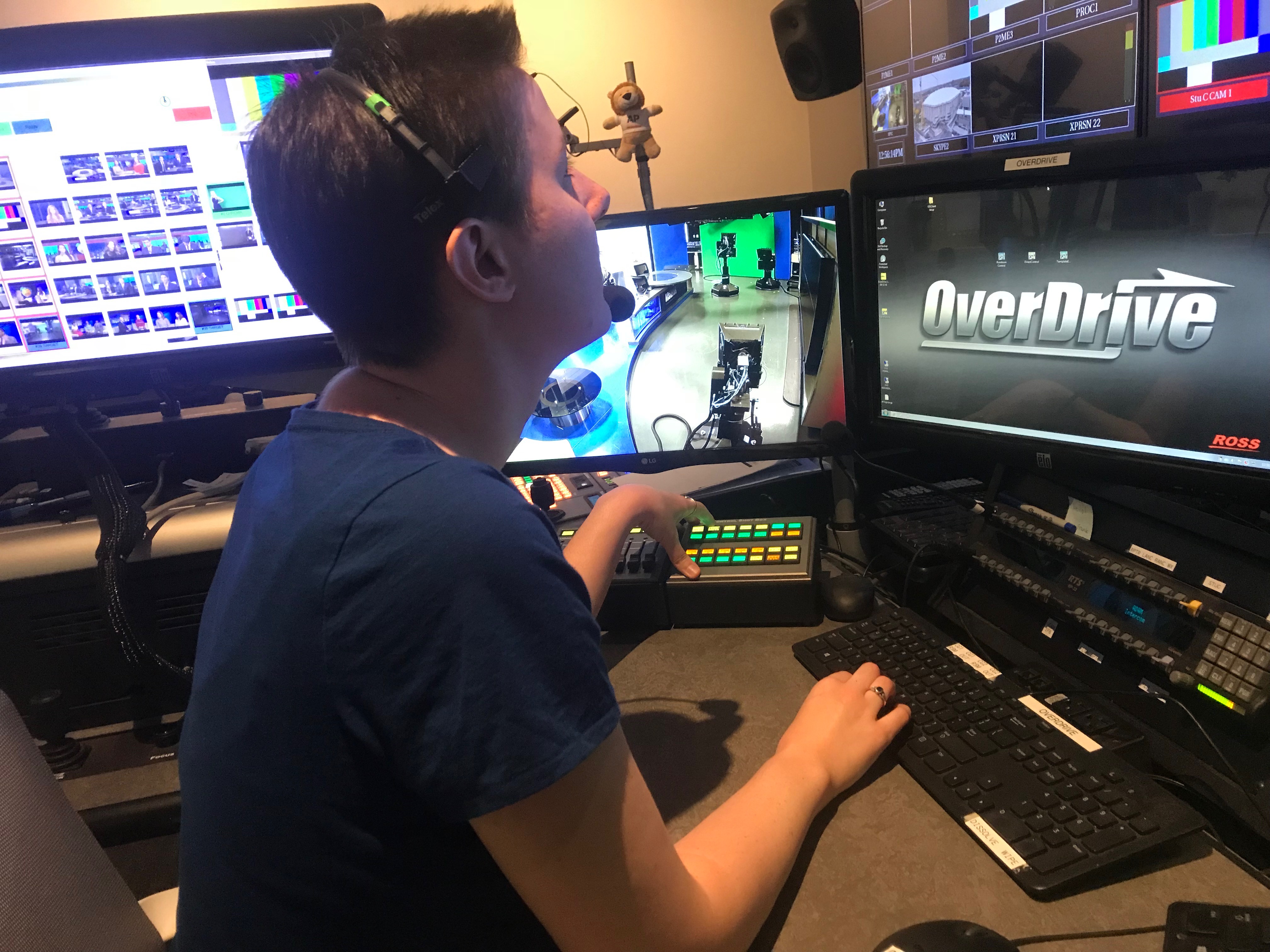 "People can say that it doesn't matter, it (newscasts) doesn't go anywhere, it's not live. But it still matters to the students," she added. "It's still important to how they're developing and learning. And if I can help that, that's awesome."
In doing this, they do face some challenges though. Those challenges include the system that they operate with. Even though it's excellent technology, it can be an enemy.
"Sometimes it's hard to anticipate what it's going to do and to account for everything that's going to happen," Jill said as she laughed. "There are so many variables that go into news that trying to get it perfect is difficult. Sometimes you have to fight against it to get it to work the way you want."
But at the end of the day, Jill is here for a purpose. As well as the entire crew is. The work that they do may go unnoticed sometimes, yet it's fulfilling and satisfying. And although she wants to eventually get out to LA and get back to her roots in editing film, Jill says she's here for a while because she loves it here.
"I left a job in the industry to come here because of how awesome I think it is to do this job. To be able to help these students get to where they want to be, it's so rewarding to see that," she said. "I consider myself very lucky."