From Cape Town to Newhouse
From Cape Town to Newhouse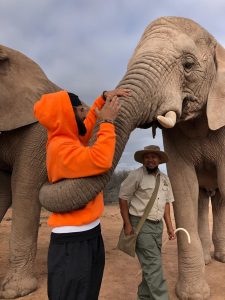 I have been pondering on my first post for a while now (around 15 days at least!) and as I was scrolling through pictures on my phone today, I came across the one posted above (yes, the elephant above is now my pet). The photograph speaks for itself; elephants are the most loving and sensitive beings on the planet (this is 100% fact and cannot be overturned under any conditions.)
When I arrived in Cape Town for my six-week long internship with Rugby365 in September 2019, I was not sure exactly what to expect. Simply put, the next six weeks would be the best time of my life. I met interns with who I shared a house with, we bonded right away, but it was the people from Cape Town with who I became life-long friends with (they deserve a post dedicated just to them).
My weekdays consisted of going to Rugby365 at around 8:30 am, where I wrote pre/post-game articles, feature stories on athletes, transcribed interviews, and kept a live update of the Rugby World Cup and regional games on social media. Not to mention, my love for journalism grew exponentially.
Before arriving in Cape Town, I was a little nervous. Having spent a lot of money (took out a student loan, as well), I wanted to be certain this was the right choice by the time I sat on the plane to head back to the States in just six short weeks. It was, and Rugby365 was a big reason why. Although I was not always doing work, I learned to be in a professional work environment. I was able to learn from my seniors just by observing them. How they worked, the things they watched for in a game, the kinds of stories they enjoyed writing, and just how important the lead to any story is! The short-lived experience in Cape Town made me yearn for that feeling when I got back to the states. I knew I needed to continue my education if I wanted a job I loved. So I started thinking…if only there was a place that offered broadcast and journalism in a professional environment. That place was not too far from my home in Rochester, NY.
Coming to Newhouse was an easy choice in many ways. After truly understanding the lineage Syracuse University has, I knew if I came to this university, I would not leave disappointed. Bootcamp was a wake-up call, for sure. But one that I needed. It was the perfect amount of time spent on things that I would be learning and applying during the rest of my semesters here at Newhouse.
Halfway done with the fall semester, I have been "in-the-field" reporting almost every single week. I had little to no experience in reporting before coming to Newhouse. Now, just five-weeks in, I have learned how to work a professional camera used by news stations across the States, learned how to edit videos in Adobe Premiere, and most importantly, something I am still learning, how to tell stories on TV when you are allotted a short time frame.
My goal in coming to Newhouse is simple: learn everything I possibly can while I am here and take advantage of every opportunity I can. What I am learning daily is that there are so many opportunities at Syracuse, as someone who is also looking forward to entering the work field following my time at Newhouse, I must be smart with those choices. There should be a connection between the opportunities I am seeking to what kind of job I want once I graduate. This has helped me eliminate several choices that I would have loved to take on, but just don't make sense for the time being.
Being in the one-year graduate program is a grind, but when you are in the midst of it, you realize that feeling may be hard to come by again. So take advantage, stress-out, cry, scream, vent to your professors, enjoy it. Do whatever it takes to get the job done. And most importantly, do not miss the assignment deadline!
Till next time, yours truly.