Spring Break: Barbados or bust!
Spring Break: Barbados or bust!
Before you know it spring break will be here. When one thinks of enjoying a week off from classes, the harsh Syracuse winter is the last things on my mind. Weather is scientifically correlated with mood. Barbados hold a special place in my heart and is the ideal place to knock off your bucket list.
Barbados is a little island in the eastern Caribbean. This little gem is a great tropical escape to relax after midterms and explore another culture. The English speaking island offers a plethora of activities to do and enough food to have you stuffed for your flight back to Syracuse. I've spent countless childhood summers here and know the island like the back of my hand.
Food
Brown Sugar -authentic Bajan food (their buffet will have you rolling out of the restaurant!)
Chutney's – for $7 USD you can get a customized roti the size of your head. They have several locations on the island & I recommend the mango chutney.
Tapas – Located along the south coast boardwalk. The sound of the waves crashing into the rocks and all the food options is quite an experience.
Drift Ocean Terrace Lounge – I didn't care for their pizza (who comes to the Caribbean for that lol) but their drinks are great! This is a beachfront lounge located on the west coast. It has a nice vibe and I love to watch the sunset here.
Oistins Fish Fry – Not a restaurant but definitely an experience! On Fridays & Saturdays, there's vendors, live music and stalls of people selling great food plates! The fish is fresh, seasoned but of course, there are other options like chicken or seafood.
Chefette – It is the largest fast-food restaurant chain on the island and has a special place in my heart. They have burgers, chicken sandwiches, pizza, ice cream.
Street vendors – Great way to eat like a local! There are plenty of food stalls across the island serving fish cakes (fried saltfish balls), fish cutters (cheap fish sandwiches), doubles (a Trinidadian quick bite made of two baras and curry chickpeas in the middle).
Excursions
Animal Flower Cave – Accessible sea cave with sea anemones and natural pools. It's located in the northern part of the island. The restaurant located on the premise has some of the best food and rum punch!
Hunte's Gardens
Lawrence Gap – Located on the south coast, this is an ideal area for shopping and nightlife.
Barbados Concorde Experience
Atlantis Submarine
Visit Rihanna Drive and her childhood home
Favorite Beaches
Pirate's Cove – right next to the tourist-filled Brownes beach but this isn't full of people.
Branden's Beach – another west coast gem located less than 10 minutes from town but often empty. (In the mornings you can smell the rum from the mount gay rum factory located nearby).
Colony Club
Batts Rock Beach
Dover Beach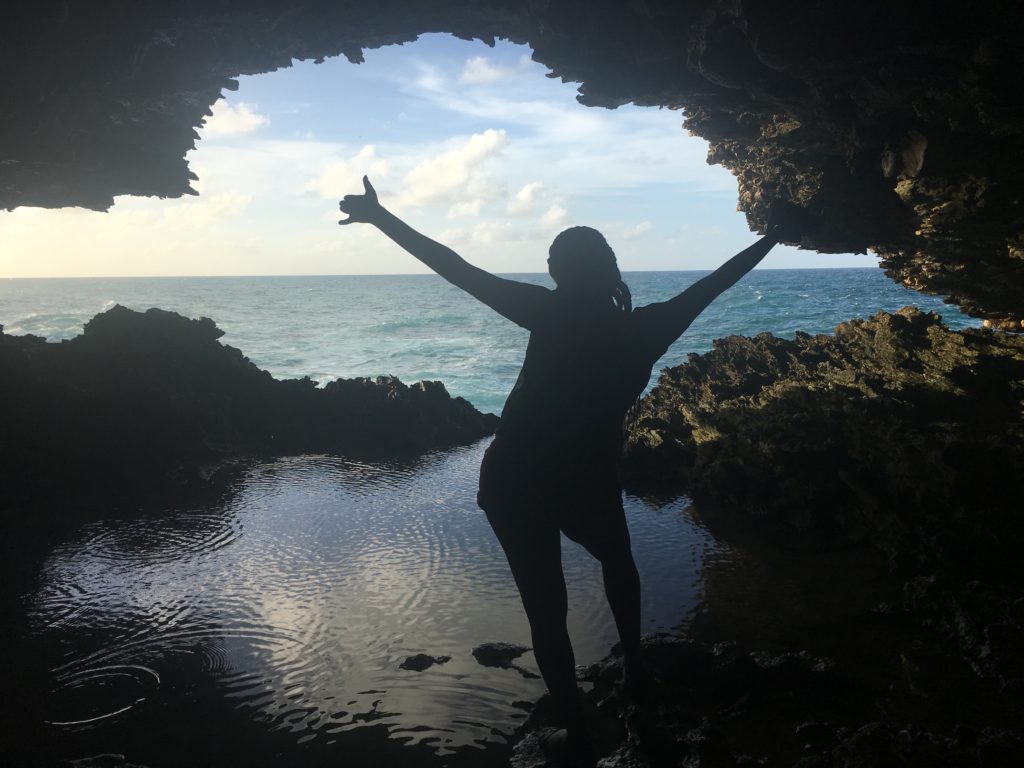 Tips
It is illegal to wear camouflage in Barbados.
$1 USD is equivalent to $2 BDS. However, you don't necessarily need to convert your money because USD is accepted across the island.
The East coast of the island is in the Atlantic Ocean and most people do not go to the beach there because of the rough waters. They don't have any lifeguards either so it's swim at your own risk! The South and West coasts are ideal locations to go to the beach.
Unlike other Caribbean countries, there are no private beaches, all beaches in Barbados is accessible to everyone. Even the most expensive properties cannot deter beachgoers from going to their beach.
The most expensive times to travel to Barbados is during Christmas and Crop Over Festival. March is an off-peak season and you're bound to find an affordable flight. JetBlue and American Airlines offer daily flights to Grantly Adams International Airport. To avoid falling into cash traps tourists face anywhere, I would recommend staying at an Airbnb accommodation. You're bound to find apartments and/or houses for as low as $50 a night!
Spring break is the perfect opportunity to escape winter blues and embrace the varying blues of the Caribbean Sea. Barbados is a hidden gem, often overlooked by larger countries in the region. All 166 square miles offers good vibes, great food, and beautiful scenes.