1,219 miles later…
1,219 miles later…
I won't ever forget where I was: standing in the living room of a friend's house in Miami.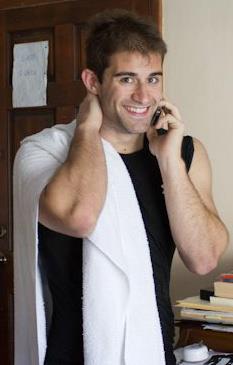 We were on Spring Break, enjoying a day in the sun at the pool, and had just returned inside to eat lunch when my phone rang an alert. I got a new email: an email that would change my life. I was accepted to the S.I. Newhouse School of Public Communications at Syracuse University! It was my official acceptance letter, and I had the biggest grin on my face reading it. The picture to the right was taken literally minutes after I got my Syracuse acceptance email, as I was on the phone telling my parents the good news.
Granted, there were still other stages to get through, like hearing back from other universities and making a decision, but ultimately, Syracuse was to be my home for my master's degree. Then, I was faced with a monumental task: how do I move to Syracuse?!
Stage 1: Where am I going to live?

I had only visited the town once before, and that was a whole year before just to check out the school. I knew nothing about the geography of the Hill or the campus area, or even where I could find housing! Thankfully, Newhouse made it very convenient with the Facebook group they set up just for master's students: it helped a lot of us connect and find roommates and living arrangements.
At one point, I heard of a site called orangehousing.com, and that's exactly how I ended up finding my apartment! I checked the site daily for all sorts of listings–one bedroom, studios, two bedrooms with roommates, etc.–and contacted a lot of landlords to get more information about the properties. A few things I always made sure to ask about were utilities (are they included? Which ones? Is there a cap? What am I responsible for? Generally, heat, gas, and water might be included, but electricity, phone, and Internet aren't), laundry (are there machines in the house? Are they free or coin-operated?), if the place is furnished or not, and parking (on or off street? Do I need a permit?). A lot of them were helpful in sharing floorplans and pictures of the potential space, which also helped me get a sense of what the places would be like. Also, consider the differences between independent houses and landlords versus housing companies like EDR Trust that own brand-new apartment complexes like Park Point and UV Colvin. They're the nicest living spaces by far, but you'll pay a huge premium–almost twice the rent of other areas in some cases–for the privilege (but they also include amenities like gyms and study lounges).
In terms of living areas, I came to find a few popular options. Both Walnut St. and Walnut Ave. are very close to Newhouse if you're south of Genesee, and anything along Comstock between Genesee and Euclid is within a fairly fast walking distance. Ostrom is also not a bad street, but I did hear a lot of warnings about Thornden Park at night, and Ostrom directly borders Thornden. Also, the neighborhoods near Westcott street (running parallel to Comstock and intersecting Euclid) are also fairly popular living areas, but if you go any further out (like Colvin or north of Genesee), you'll also find good places, but it'll be harder to get to campus, and you'll probably need a car. I was lucky in that where I am (the intersection of Comstock & Madison) I can walk to school every day.
The downside is that everyone else in the program is also trying to find housing at the same time, so places will get booked fast. A number of houses I looked at were taken before I could proceed any further, and by the time I found someplace I was interested in, I decided to lock it up. I indicated my interest to the landlord, who mailed over a contract; I signed it, sent it back, and within a week had my own set of keys to the studio!
Stage 2: Packing

My entire life was in Florida, split between my home in South Florida and my dorm at undergad in Orlando. It was daunting, but I got through the usual stuff in a fairly ordinary manner: I packed all kinds of stuff in regular filing boxes and went on a huge spring cleaning spree (protip: throw stuff out! You'll learn quickly there are things you can afford to part with, as I razed four years of crap I had kept from undergrad that was no longer relevant). I sold some things off to friends and gave others to my roommates, and even had my parents agree to bring up some other items from South Florida. Eventually, my entire life that was previously spread across half a state now took up just under half my loft living area in my off-campus apartment. It's really humbling and scary at the same time!
Stage 3: Getting to Central New York

You can easily fly into Syracuse via the local airport, but it's a small place and might be expensive. Plus, if you're bringing a car with you or have a lot of stuff, it might be more cost-effective for you to make the drive. My parents and I decided to drive since I wanted my car, so we stuffed (literally) everything into my crossover. What was really helpful was buying a set of roof rack bars and a trunk saddlebag that let us pack even more stuff and tie other stuff to the roof, otherwise there is no way I would have fit everything. We considered shipping stuff, but the cost was too great. Other grad students shipped over their personal effects, even their car, from the west coast, but it wasn't for me, though those options are available.
The drive wasn't that bad, and my parents and I made an adventure out of it! We stopped every six or seven hours at local tourist traps, enjoyed the driving up the coast, and spent some time exploring sights at states I wouldn't normally get to. From where I was in Florida, it took about two days to get to Syracuse, with a stopover of one night. It was a lot of driving (we left around 6 a.m. the first day) but we finally rolled into Syracuse at my new studio at 3 p.m. the second day and start unpacking.
Stage 4: Settling in

By this point, I've got everything in Syracuse, but now it's time to unpack. There were some things we didn't bring (like a mattress and bed frame) and others we needed to assemble, so my dad and I set about taking care of that stuff first. We had previously ordered some furniture at Walmart and brought it to the studio to set it up, and we then found a local mattress shop that sold us the best full-sized mattress I've ever slept on in my life (it's right off Erie Blvd, about ten minutes east of Comstock). Combine that with some groceries and posters/decorations, and it's like I never left! Just with a new room layout, and campus, and classes, and friends, of course.
---
It's a terrifying idea, moving to a completely new town without being there to evaluate living options or geography. Use the Internet to your advantage: connect with fellow Newhouse students, use Google Maps to determine distances and walking times, and, ultimately, go with what's in your budget. There are many ways to make the move to Syracuse, and this is how I accomplished mine.
And you know what? 1,219 miles later, it's my new home.