Why I Am In The Right Place At The Right Time
Why I Am In The Right Place At The Right Time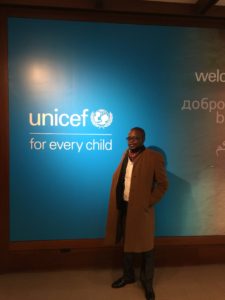 "Newhouse seeks to create practitioners who will change the world for the better through mass communication."
Lorraine Branham – Dean
Having put to the test the skills I acquired over the past one year from the classrooms of Newhouse and Maxwell School during my internship at UNICEF Headquarters, I can confidently say without any aorta of doubt that I made the right decision to come here.
My first interaction with Syracuse University was in May, 2015 when I was told by the United States Embassy in my home country, Zambia, that I would be based at the University for my Mandela Washington Fellowship; this was a program which was launched by President Obama in 2015 to groom the next generation of African leaders. Having known no one who had been to the University before, I made full use of my online searches to know as much as I could about the place where I would spend 6 weeks straight. The 6 weeks I spent here was enough to convince me to come back for my Master's degree. It was a love at first sight, which rapidly grew on me over the 6 weeks during the fellowship. In June, 2016, after a 20 hour plus flight I finally arrived back in Syracuse for my first semester as a graduate student. Having done all my previous studies back in Africa, I was bit nervous on how it would all pan out. After an intensive summer boot camp, I settled into what will be my home till 2018. Then came the question: How was all I was learning going to help me fit in the real world? The summer internship at UNICEF was the perfect opportunity for me to find the answer to this question.
The internship was made possible thanks to Syracuse University's robust alumni network. Being interested in the work of the U.N., I took a class with distinguished Prof. Catherine Bertini called "United Nations Organizations: Managing for Change". Throughout the course, I met former Syracuse University students, including Ms. Shannon O'Shea, a Newhouse alumni, who connected me to Senior Communication for Development (C4D) Advisor Dr. Kerida McDonald, under whom I currently work.
My supervisors were so happy with my performance that they decided to extend my internship until Nov. 14, 2017, which is for another three months approximately. I am doing the extended part virtually and I visit the New York office whenever I get the opportunity. Other than the coursework I did from the Newhouse and Maxwell schools, what helped me to hit the ground running was the fact that I had been doing work with the same office even before the internship officially began.
The internship was a perfect fit for me, as my ambition is to become a thought leader in Africa in C4D, because I am convinced that communication must be at the heart of any sustainable development effort as it can help to bring those on the margins of society to the table. In support of the foregoing assertion, United Nations Industrial Development Organization Director General Li Yong (2017) argues that to achieve the Sustainable Development Goals (SDGs) as part of the 2030 Agenda, development partners need to support Africa in accelerating its development by promoting inclusive and sustainable industrialization. When women and children are brought to the table, their families have a chance to benefit more from any key social outcomes. In order to emphasize how important communication for development aids sustainable development, it would be useful right from the outset to define it. The 2006 World Congress on Communication for Development (2011) defined C4D as "a social process based on dialogue using a broad range of tools and methods. It is also about seeking change at different levels including listening, building trust, sharing knowledge and skills, building policies, debating and learning for sustained and meaningful change." Thus, C4D encompasses all forms of human communication that aid development. Since it involves behavioral change, C4D must be anchored around participation and continuous, strong evidence-based research. For me, there could be no better stage than UNICEF to practice and learn about the evolving field of communication for development.
Right in the first week of my internship, I could safely say that the different courses I undertook from Newhouse and Maxwell Schools thoroughly prepared me for work in the real world. The "Introduction to Public Diplomacy and Communication" and "Advanced Public Diplomacy in Communication" courses from Newhouse School and the "International Actors and Issues" course from Maxwell School taught me how governments and international development agencies interact at the global stage. Governments and international development agencies are critical partners to the work UNICEF does. Armed with information on the forces that influence interactions between the different actors, I was able to recommend realistic proposals in my memos and concept notes during my work. I was taught how to write policy memos and concept notes to senior officials in the "Public Relations Writing" and "International Actors and Issues" courses. I was also able to make recommendations that were within the confines of the law, because of the knowledge I acquired in the "Media Law" course from Newhouse School.
Since C4D is anchored on evidence-based research, my investigations were guided by the knowledge that I acquired from the "Public Relations Research" classes at Newhouse School and the "Introduction to Statistics" classes at Maxwell School. Further, since research also involves theory testing, the lectures I received in the "Public Relations Theory" class also helped.
My detailed understanding of the operations of the U.N. and its agencies such as UNICEF helped me to settle in the internship easily. All of this was made possible by the "United Nations Organizations: Managing for Change" course which I took at Maxwell School during the winter intercession. In fact, I came across the networks, which made the whole internship happen through the events, which surrounded the U.N. course. The tips we were repeatedly given though the Tina Press & David Rubin Career Development Center (CDC) of Newhouse on networking proved very handy at this juncture. What was also useful are the tips on etiquette when in the company of important professionals in a way that helps you to make an impression, which were shared with us during the "Public Relations Etiquette Dinner Training" in the 2016 summer boot camp.
It is also worth emphasizing that the coaching I received from the CDC on the dos and don'ts during an internship helped me to behave and dress appropriately during the internship. I never at any time ran into trouble during my entire stay. The CDC also helped me to prepare my resume, which got me the internship. I was helped to prepare a winning resume designed and framed to highlight my key competencies and achievements as opposed to focusing on my duties and responsibilities.
The internship was a perfect fit for my career growth, as it helped me to learn and practice what I already know on a global stage. The successful internship has helped to boost my confidence levels that I am on the right path receiving the right education at Syracuse University. The assistant to my supervisor described me as a rising star with an exceptional skills base. The highlight of my internship was being asked to review the final draft of the "C4D Online Course". This course, which is now available to the public, will help to create other champions like me, who will use C4D to create real impact in the lives of children by giving them a real voice. This way, I would have contributed in a real Maxwellian fashion to make the world a better place because a voice for the children is a voice for the future. This is exactly what Newhouse School seeks to do: To create practitioners who will change the world for the better through mass communications.
*Aaron Mwewa is a graduate student in the Public Diplomacy Program